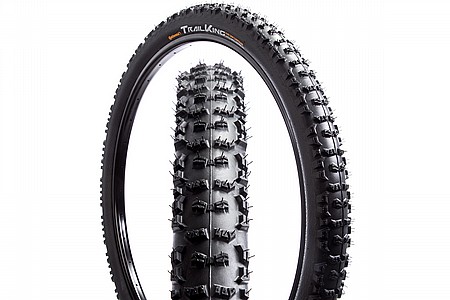 Cycling Enthusiast
dallas tx
fast, lots of grip, but doesnt last....
I killed one of these as a rear in a little over 150 miles. Tread was still sticky, still fast, but was weeping sealant from everywhere. it was like wet spots all over the tire, mostly the sideway. I am 200lbs and using it on a hardtail, but ive never had this problem before. even my maxxis stuff ive had in the past with 500 miles on them. in the same conditions. not a great lasting trail tire.
Thank you for your feedback.
Casual Cyclist
South Louisiana
Can't beat it for this price!!!
I installed this tire on my Trek Fuel EX 8 on the front. When I saw the price I just had to try it. For the type of riding I do this will work just fine, mostly dry dirt some grass and mild bike park trails. The tread looks awesome and aggressive. Performance is probably a step above the bontrager XR3 that I had before while running slightly low pressure. I went with the 2.4 and this was a perfect fit. Just a hair wider over the 2.3's that I had before. Don't know about long term performance, just had them a few weeks. Don't waste time thinking about it...Just do it!
Thank you for your feedback.