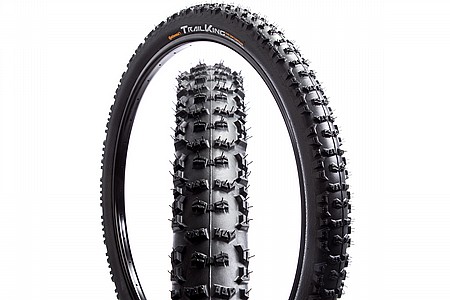 Gecko Tires
I just put these on my winter mtb (vintage giant trance, Stan�s tubeless wheels) and have ridden exclusively on dry slick desert single track. Cornering, climbing, braking are all excellent. Thorn and spine protection is also excellent so far. I can�t rave about these tires enough. I wish I found them a long time ago. I�m going to find a set for my 27.5 setup too.
Thank you for your feedback.
Cycling Enthusiast
North Carolina
7 of 7 customers found this review helpful.
Grip-tastic!
I bought these for a trip to Oz that we were supposed to take, but then COVID-19... so my trail bike sat until last week when they opened Pisgah back up. Trail was dry, dusty, but still had some decent grip. These tires were awesome, I'm stoked. ...of course, it's always easy to be stoked on new tires, on a sunny day, and on long descents after 8 weeks of none of those things... but these seemed like a little more than just that new tire smell, they seemed, well, good-er.
Anyway, climbed well (for their weight), braked well, cornered awesome, ate up bumps, rocks, cleared mud (didn't pack up), rolled over and through everything. I ran 20 psi front, and 21 psi rear, and I weigh just under 200lb with all my gear on - no burping or bottoming.
Bottom line, I'll buy these again someday, hopefully right after I've worn these to shreds.
Thank you for your feedback.
Cycling Enthusiast
Portland, OR
4 of 4 customers found this review helpful.
Nice tire for AZ trails
I got these for my hardtail in 2.2 width. Nice profile with 30mm internal width rims. I've only been using them for 3 months but they seem to be holding up with all the rocks I encounter. I hope they dont stop making these in 26".
Thank you for your feedback.