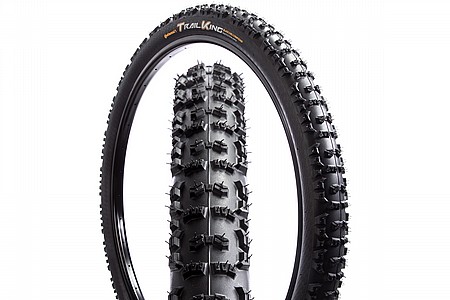 Grip great and super fast, but dont last as long as some others.
I used this on the rear of my 29'er hard tail, I am 200lbs, so I am not easy on tires. After 2 seasons and maybe 200 miles, the tread and grip are still great, but the tires have started seeping sealant from everywhere. This just started at the end of last season. Wish they would have lasted longer, Ill probably go back to maxxis. Putting fresh sealant in every other ride is getting old.
Thank you for your feedback.
Cycling Enthusiast
San Diego, CA
A good all 'rounder
I've put over 300 miles on a 2.3" Cross King on the rear and 2.4" Trail King on the front of my hardtail. They've both surprised me at how much grip they have on San Diego's loose-over-hard riding conditions. The Trail King's done everything I've asked of it, from pointing up loose, steep hills to rolling down pavement at inadvisable speeds. I've been impressed by its performance on hard ground!
The few times I've ridden it through shallow southern California mud, it's had no problem clearing the tread.
No issues with any snake bites or burping when combined with Conti's tire sealant. I plow into rocks on every ride, but the "protection" marketingspeak's been true.
Thank you for your feedback.
Cycling Enthusiast
Northern Utah
1 of 1 customers found this review helpful.
Great downcountry front/longer travel rear
In the Wasatch area of Utah on a Giant Trance Pro 29x2.4 up front, 29x2.35 Mountain King rear - both Black Chili.
Weight and size are spot on. Great front tire with excellent braking and steering. Think light, easy rolling version of DHRII. Durable, sets up tubeless easily. On an "upcountry" (okay, there's no such thing, but longer travel, more enduro oriented, like 130+mm) this would likely make a nice rear tire paired with a grippier front.
Thank you for your feedback.
1 of 1 customers found this review helpful.
A awesome tire
I bought a 2,4 for ft and a 2.2 for the rear 10 / 19 I love them they grip on everything hard pack dirt to soft ground They corner fantastic I am 5 ft 9in + 150 lbs I run 22 in ft and 28 in rear The rear slides with just a tap of rear brake just enough in corners to help me turn The rear is startin to show wear after 10 months im very happy
Thank you for your feedback.
Competitive Racer
Montague
1 of 1 customers found this review helpful.
AWESOME TIRE
The trail King is a great tire it grips on soft or hard ground and rolls alot better than any thing else i tried I love there road tires that why i bought the Trail King It rolls so good some hard pack dirt i am a gear higher than my old tires it climbs great and corners great Everything i want from a tire
Thank you for your feedback.