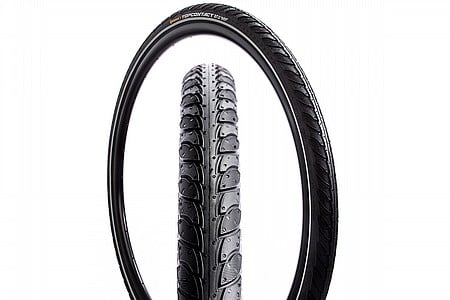 User submitted reviews
Review by Anonymous

1 of 1 customers found this review helpful.

Top notch commuter tire.

Very lightweight yet quite durable with good traction in wet environments. Wish I could rate this with six stars. Highly recommended.

Thank you for your feedback.
Review by Craig

Casual Cyclist

SE Michigan

11 of 11 customers found this review helpful.

A seriously good tire

I do mostly trail riding, from gravel to asphalt with occasional dirt single track and State Park mountain bike trails. I have over 3000 miles on my current set of Top Contacts and have had no problems. When riding on asphalt roads or trails, I pump the tires up to 65 psi where they ride wonderfully on the closed center strip, and when going off road, I lower the pressure down to 30-35 psi, and the edge tread works great on the gravel and hard mud of softer trails. Have never had a flat, and the tread still looks near new. I have done 2 Michigander tours the last 2 years of 350 miles each over varying terrain and they have performed flawlessly. The little bit of extra weight is absolutely worth the durability built into this tire.

Thank you for your feedback.
Review by Maurice

Cycling Enthusiast

Stillwater, Minnesota

11 of 11 customers found this review helpful.

Durable Reliable Tire with good Ride Characteristics

We used this tire (700 x 32) on our road tandem for a 2 week cycling tour through Vietnam and Cambodia. Most of the roads were uneven and pot holed pavement, some coarse gravel and a lot of compacted clay and dirt. While many other tandems and single bikes experience multiple flats on the tour, we had none! The tire provided good traction on the loose gravel, sand and dirt we encountered in many areas, yet rolled well on the smooth pavement where we could ride at speeds approaching our standard road tires. While the tires are a bit heavier than your more standard performance road tires, the extra rubber and material in the tread and sidewalls added durability that is desired when touring on rough roads in foreign countries where support may be limited. When you take into account the extra weight of a second rider plus bags with supplies and tools on the tandem, we were impressed by the durability under the heavier load.

Thank you for your feedback.