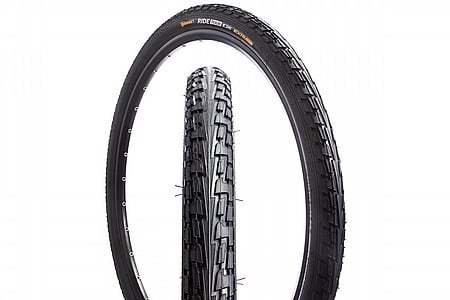 Cycling Enthusiast
Bayfield, CO
Cycling Enthusiast
Vancouver, WA.
Cycling Enthusiast
Ann Arbor Ypsilanti Mi
2 of 3 customers found this review helpful.
very good tire
i use the tour ride tires around the city they are very good tires as for the price a good price for the tire you would expect to pay much more, i give it a 5 star in quality, and a 5 star in value.
Thank you for your feedback.
Cycling Enthusiast
Madison, WI
6 of 60 customers found this review helpful.
Decent ride, versatile offon road. But hard to inflate - Presta valve plunger is quirky
I road commute everyday. These tires seem resilient but can't seem to hold air well. My tirewalls show a 102 max PSI, (85-to 102) so I'm suprised by the specs listed on this site.
Difficult inflating these. Unless I'm able to max out the pressure, the bike feels like its riding thru sand during inclines. Frustrating.
I recently tried injecting max air pressure using the Shrader adaptor.When I unscrewed the adaptor, the Presta-valve plunger popped out like cannon fire. Now I might need to replace the tube! Not that happy wtires overall.
Thank you for your feedback.
Daily Commuter
Columbus, OH
Perfect City Tire for a Vintage Mountain Bike
I use Continental Gatorskins on my road bikes. These Continental Ride Tours are the answer to replace the (original?) tires on my recently purchased lightly used 30-year old vintage Trek 7000 which I bought as a neighborhood rider to keep at my daughter's house to ride with the grandkids. The price was right and the product description hits the mark. Eight thumbs up.
Thank you for your feedback.
Cycling Enthusiast
Portland, OR
Good, inexpensive commuter tire
I've been using these for my commute since December. They are better in the rain than the slicks I use during the summer. They are not what I would call fast! But more importantly, so far I've had ZERO flats! Totally satisfied, especially considering how inexpensive they are.
Thank you for your feedback.