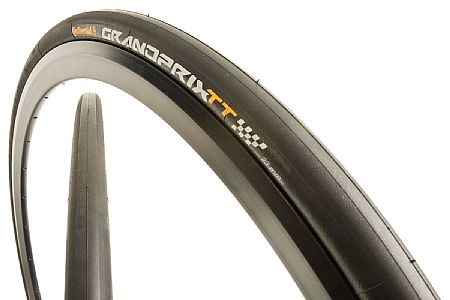 Competitive Racer
St. Paul, Minesota area
Cycling Enthusiast
Portland, OR
3 of 3 customers found this review helpful.
Great race tire
If you are looking to squeeze every bit of speed out of your setup and are running clinchers, you should strongly consider these tires. Used these at Ironman Arizona 70.3 which had some intersections with pavement elevation differences which honestly I was a bit afraid of pinch flatting on with so little material in the tires. However they held up great, no flat and roll awesome, especially paired with Latex tubes for race day. Not intended as a high mileage training tire, but for racing, absolutely! Will be buying more.
Thank you for your feedback.
Cycling Enthusiast
Columbus, OH
9 of 9 customers found this review helpful.
Awesome racing tires
These tires have very low rolling resistance and, hence, are very fast. Their resistance to wear is average. Puncture resistance is OK, but they really aren't designed for extensive training. Use these on race day and you will feel as if you have gained 5-10 watts over training tires.
Thank you for your feedback.
Cycling Enthusiast
Eugene, OR
4 of 5 customers found this review helpful.
Great adn fast tire
I got six of these tires at BTD. In my experience, they actually are quite durable (maybe not as durable as the GP400s but I don't care to gather that much data!). I am a large rider (6'3, 190 lbs.) and sometimes wish for a wider footprint. I think they have been a great bargain, and will probably switch back to 400s 700X25 as I basically do long road rides and club rides. All things Continental are the best in my experience.
Thank you for your feedback.
7 of 8 customers found this review helpful.
Fast Tire
I have used these tires for all my triathlon races this year total of 6 races (1 sprint, 3 olympic and 2 half's). They have stood up very well and are extremely fast using latex tubes. Can't go wrong with these tires.
Again, remember these are meant to race with due to weight and rolling resistance, they are not daily training tires. Using the Conti 4000S for a training tire and no problems either.
Thank you for your feedback.
Cycling Enthusiast
New England
11 of 12 customers found this review helpful.
Great Sprint Tri or Climbing Only Tire
These tires work great for a sprint triathlons or a climbing-only tire. My set came in at 348 grams. It is unrealistic to expect to get high mileage out of these tires because they have reduced tread compared to a Continental GP4000S tire. That is the trade-off for about 60 grams less rotating weight. These are great purpose-specific tires, but I recommend using them only for sprint triathlons or climbing time trials but not crits or everyday riding. They won't stand up to the hard cornering of crits or the high mileage demands of training or recreational riding. Just be smart about how they should be used and realistic about their trade-offs.
Thank you for your feedback.
Competitive Racer
Seattle Area
Competitive Racer
Indiana Dunes, In
4 of 17 customers found this review helpful.
Definitely won't be buying these again!
3 weeks after paying for these and putting 30 total miles on them, I experienced 2 flats on the same ride.. After looking at the tire closer, the sidewall had a 14 inch slice right through it. I have rode on nothing but clean roads for those 30 miles. So much for "This cutting-edge material is also optimized for reliability and longevity, making it a great choice when performance and durability are top priority."
For sure won't buy continental again! going back to my Michelins
BikeTiresDirect.com Comments
Jason, Thank you for your review of these racing tires. Unfortunately, road racing tires this light can only be so durable. We have sold many of these tires and customers have not reported problems, but we always welcome you to contact our customer service department if you believe you may have a defective tire. Thanks, Stacia
Thank you for your feedback.