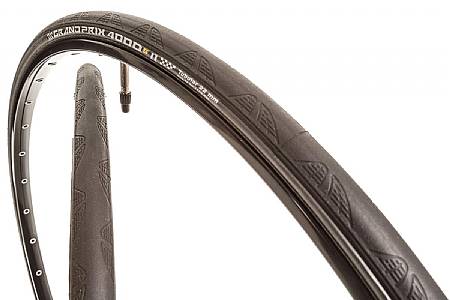 Competitive Racer
West Windsor, NJ
1 of 1 customers found this review helpful.
A tough tire, a tough price, but great performance.
I've installed and ridden other tubular tires before, but nothing seems to compare to the Conti 4000. I use Conti 4000 clinchers on my other bikes and found a great balance of performance, durability, and handling, so I searched for the same in tubulars, and was not disappointed. Reading about them in advance helped me to prepare for their installation by stretching them out on the destination rims for about a month and a half before installation. Also, practiced different ways of installation while dry before setting them up with the cement since these are as tight a tire as I've even installed, but well worth it. Applied the cement to both rim and tire evenly but not too much... waited about 12 hours, then applied another layer to the tire only... waited about 10 - 15 minutes so that it's not real tacky, then started the install with about 25 PSI. Inserted the valve stem first and pulled the tire around on both sides working towards the opposite end. Once I was about two-thirds complete I removed the value core to let out all of the air which allowed the tire to stretch out a little better the remainder of the way, but was still very tight. Once on, went around the wheel and centered the tire on the rim so that beads of either side were the same... added some air and continued to ensure tires were centered.... spun to ensure perfect roundness and centering... applied 145 PSI... rolled them on hard floor for a while to ensure even tension and then let sit for 24 hours before riding. These don't seem to leak air like my other latex tubulars, but rather hold the air for many days... what a treat. The ride is super, as expected. 22mm, excellent rolling resistance, smooth and confident cornering, and the dependability of Conti..... this is a great tire and well worth the money and the effort, although I did wait for it to go on sale before buying a set. Just ordered a second set to let them age and soften for next year when I will gladly do this again. I hope you find this info useful... the roads in New Jersey are not the most smooth, and with the added road debris during the winter months, my confidence is very important.
Thank you for your feedback.
Competitive Racer
Salt Lake, Utah
3 of 4 customers found this review helpful.
Good combo of speed and durability on my Sub 9 disc for both road and velodrome!
Its pricey, like all other fast tubies, but it also handles the rough chipseal roads of the Saltaire Time Trial as well as it handles Colorado Springs' velodrome. I have it mounted on my Sub 9 disc and use it for both track and road. Great tire!
Thank you for your feedback.
Cycling Enthusiast
San Diego, CA
3 of 4 customers found this review helpful.
It's a Continental Grand Prix! But in a tubular!
Just like the Grand Prix's in the clinchers, I converted over to tubulars this past summer. Picked up a pair of Zipp 303's and the Grand Prix's. I don't pretend to be a bike wrench, so my LBS installed these tires and they took a week to apply these tubulars properly. They also installed Orange sealant in them. I couldn't be more happier with this setup. Not sure if its the carbon layup of the wheels and the Conti's, but the ride on this combination is great.
The parts of San Diego that we ride in have some of the nastiest roads with pot holes, etc. I try to avoid these, but some of the roads I've ridden in, the wheel and tire combination have not let me down.
I do carry a can of Vittoria Pit Stop and a spare CO2 just in case. Also, the sealant has caused some issues with the removable valve core. There was an incident when trying to pump up the rear tire, the presta valve would not seal correctly (still letting air out). I jiggled the valve pin around to make it stop, but I took it into my LBS and they removed the valve core and replaced it with another one (no charge!). They told me the sealant causes these issues with the core and gunk's it up sometimes. The front valves seem to be fine. Stan's does make a valve core remover and I might get one and try this myself if this ever happens again.
They are a bit pricey, but so far so good.
Thank you for your feedback.