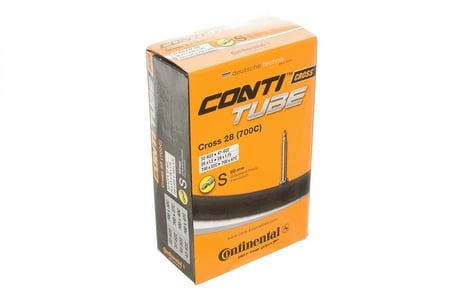 Cycling Enthusiast
Mountains of Pennsylvania
Well made from a major company.
I ride 50-75 miles a week. I have never had a problem with Conti's. I should have looked for a shorter Presta valve as the 60mm tends to be a bit out of balance. But at 72 years of age and my skill level 18 mph on hilly roads I never notice the wheels being out of balance. If I was a real racer I'm sure it would make a difference.
Thank you for your feedback.
Cycling Enthusiast
Cincinnati OH
Continental tubes rock!
Bought these for Back up tubes in case of a flat on my tubless set up for DK200 and fortunately didn't need to use them. I've run these before on gravel though without issues so thought they would be a great choice.
Thank you for your feedback.
Cycling Enthusiast
Illinois
1 of 1 customers found this review helpful.
Good versatile tubes
I like these tubes because I can keep just one size due to their versatility for my non-Road bike usage. I can use these with my commuter 700c x 32mm tires as well as with my 700c x 35mm-36mm GravelAdventure type tires. The 60mm Presta valve provides convenience when used with mildly aero rims where the 42mm valve length makes accessibility tight on some wheels.
Thank you for your feedback.
Competitive Racer
Maryland