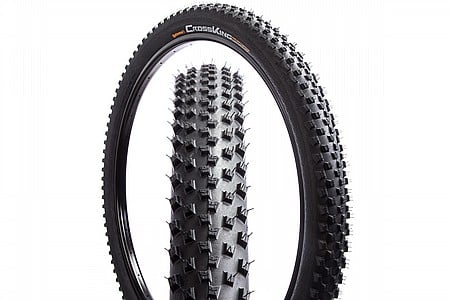 1 of 2 customers found this review helpful.
The Tires
A wide variety of riding and these tires have a reputation. Mud, uphill trail drain creats a deep gritty soil mix. The kind you would tell yourself lets skip this one...and as a disregard common thinking with ample grip Im at the top. With a scores of other trail textures and disciplines...that one won me over. Like a much needed Kenda comp 3 for 29in bicycles it something that becomes a long term must. And forever plays an important part of mtb journey. Thanks for reading, J.T.
Thank you for your feedback.
Cycling Enthusiast
Hot Springs, AR
4 of 4 customers found this review helpful.
These tires give me great confidence on the terrain that I ride
These tires are used on a trail system that involves creek crossings, some limited rocky terrain, fast clayey soil singletrack and occasional downhill constructed jumps. This moderately wide tire seems to work very well and gives me a lot of confidence in all situations. Had previously used thinner MTB tire that did not provide the stability that these do. These tires are grippy and stable and I don't have to think about my contact with the ground when I'm riding now. They're a little heavier than previous tire sets, but for my liking well worth the weight sacrifice. Wear has been excellent so far too, and I haven't had a puncture yet. I like em.
Thank you for your feedback.
3 of 3 customers found this review helpful.
Good Tires!
Picked these up after buying a used bike with crap tires. Also converted to tubeless when installing these. So far on minor trails these have performed well with great grip and good ride. One note, when converting to tubeless I used Gorilla tape on the rim. This worked well but you need to wrap the gorilla tape around the rim twice to ensure the bead of this tire seats properly. When I took my bike to a shop for an adjustment they complimented 'these are the new Conti's...I've heard great things about them!
Thank you for your feedback.
Casual Cyclist
Washington Crossing PA
Confident tire
Grippy tire, it's built my confidence in cornering for sure. I used to tip toe the curves but with this tire I've learned to carry speed and lay it over while cornering, relying on the Continental Cross Kings. They are also a very fast rolling tire on any surface, just stay off the asphalt as it will chew on them as with any Mt bike tire.
Thank you for your feedback.
Cycling Enthusiast
Cache Valley Utah
Cycling Enthusiast
Eugene Oregon
Cycling Enthusiast
San fernando Valley
Cycling Enthusiast
Newport Beach, CA
Cycling Enthusiast
Victor,Co
Nice and handles rocks and roots very well. Good price too
Single track rides the tires handle well. Fit the wheels well too. Continental sometimes makes the tires tires tight to the rims. Broken a couple screwdrivers putting other tires on jk
Thank you for your feedback.