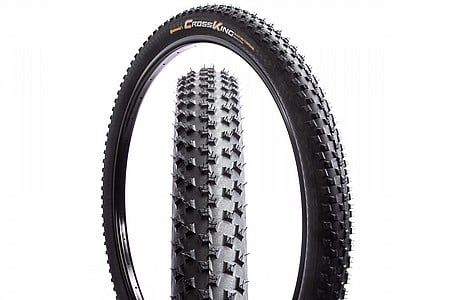 Cycling Enthusiast
The Lost Sierra
Get the Black Chili ProTection not the Performance model.
I bought a couple of Conti Cross King ProTection (Black Chili) tires in 27.5X 2.6. These were expensive made in Germany tires. I wanted a little more clearance in the back, so I bought a 27.5x 2.4 Conti Cross King "Performance" tire. The German Black Chili ran straight and true.
Not so for the cheaper Asian made "Performance" tire. It had a significant wobble.
My advice: pay the extra money, a wobbly tire is bunk!
Thank you for your feedback.
Cycling Enthusiast
San Jose
3 of 4 customers found this review helpful.
Good tire but poor quality control
Got 2.6 front and 2.4 rear. Tires have plenty of traction but I am switching to WTBs. Reason being that Conti has very poor quality control. Both tires wobble noticeably. I have had bike store check my rims for damage or truing with none found. I have remounted the tires several times and with different rim tape configuration yet the wobble remains. The tires are unrideable as the wobble causes small but noticeable affect on steering on corners. Conti is just not the name it used to be.
Thank you for your feedback.
2 of 2 customers found this review helpful.
Awesome Tire
I am so glad that I purchased this particular tire. I ride on different surfaces (asphalt, hard pan dirt, mud) and this tire holds up really well. I love the sound a knob tire makes while riding. Will definitely purchase again
Thank you for your feedback.