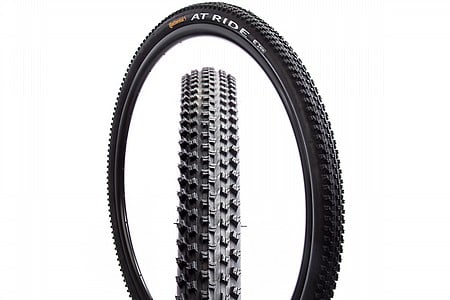 Cycling Enthusiast
Vancouver, WA.
Continental AT Ride 700 x 42mm Gravel Tire
For the price this tire is very robust and seems to have good durability and a long lasting tread design. It is surprisingly fast rolling on pavement. Haven't been on any type of off road yet. But with the fairly aggressive tread pattern it appears likely to have good grip in most conditions. So far I am satisfied with the performance of this tire and consider it a very good value.
Thank you for your feedback.
Cycling Enthusiast
Western Washington State
4 of 4 customers found this review helpful.
Good rails-trails tire
Bought a set of AT Rides for wife's Liv Amiti. We ride mostly gravel rails-to-trails. I had replaced the original 700C-42 tires with 29X2.1 mtn bike tires, but they were too big for the frame so after several months I decided to go back to the original tire size. She was accustomed to the 2.1 tires so I was concerned about wanderingwashing out but she reported no problems.
These Conti's are much tougher than the OEM tires, which went flat several times in a short period of time.
The dense knobby pattern seems to work well in gravel.
Thank you for your feedback.
3 of 3 customers found this review helpful.
Love these tires!
I replaced the too smooth tires that came with my Cannondale Quick CX mountain bike with these tires and could not be happier. They ride smoothly on the road, but also grip well in the dirt. Looking forward to putting a lot of miles on these tires.
Thank you for your feedback.
Cycling Enthusiast
Arizona desert