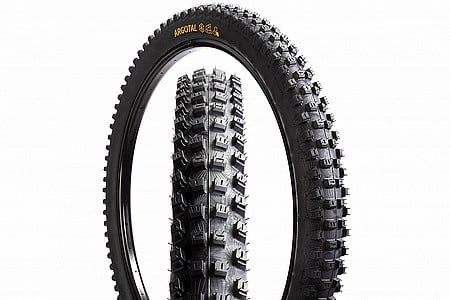 User submitted reviews
Review by Njdubbs

No bueno

Maybe its better on different trails, but the argotal did NOT perform on the loose, dry, chunky trails here on the central coast of Ca. I rode it 3 times on 3 different trail systems that I'm very familiar with and had the same sketchy out of control feeling. Maybe a person could get used to it, but why bother if its not immediately better than what you had before...

Thank you for your feedback.
Review by gdjones

Good tire good price

Good grip in most conditions and the base Trail casing is burlier than most competitions entry spec tires. The Trail/endurance casing feels roughly equivalent to the Maxxis EXO+ so It's not the stiffest casing but sturdy enough for most riders in most conditions. Set up was a bit of a pain, setting the bead was more difficult than others I've set up tubeless and they required more sealant than my previous Maxxis tires but that may be attributed more to the rims that the tires. On the trail running the Argotal on the front of my bike proved uneventful, Grip is good in wet and dry conditions, and I never felt like I was lacking when going into hard corners. Overall, for the price the Argotal in the Trail Casing is pretty hard to beat.

Thank you for your feedback.
Review by Anonymous

Argotal DH Supersoft

Love this tire! Hate to say it but better than the Assegai in maxx grip it replaced on front. Casing is tough but comfortable. Grip is great. Also rolls way better than Assegai. Lite for what it is. My new winter tire of choice. Mounting was easier than fitting an insert with exo+ casing. Don't need an insert with this bad boy.

Thank you for your feedback.