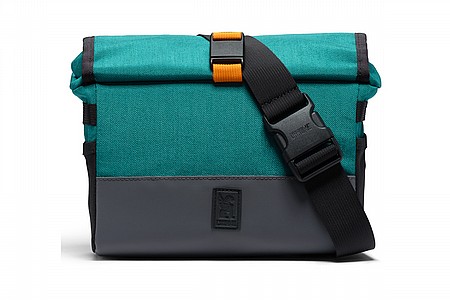 Great bag in any color
This bag is so useful to me I don't know where to start. It's currently the 'one bag' strapped to a rear rack as a single small pannier, holding all trail tools needed to repair most issues, some food, keys, and other pocketable items. It'll even fit up to 2 20 oz bottles when empty. There's two elastic pockets on the sides of the bag for bars or keys, and MOLLE as well, so the bag can be attached to other bags.
Here's where it gets interesting. This bag for me is also a second bag that's attached to a Moosetreks handlebar bag for bikepacking, serving as a day bag for electronics and a small camera. This versatility makes this urban bag feel more like part of a bikepacking system when used this way.
It can also be used as designed, as a front bag to and also features hidden sling straps so it can go with you anywhere.
I really like this bag
Thank you for your feedback.
Not a great value
While well made, the design of this bag is not optimal. No transparent window for map, cue sheet or phone, and insecure closure does not protect against rain. Velcro attachment straps work well, but take up handlebar space. Not as good as other bags I've had, but does the job.
Thank you for your feedback.
Cycling Enthusiast
New York City
1 of 1 customers found this review helpful.
Useful bag for small items.
I got this handlebar bag so I wouldn't have to carry a backpack on long rides. It is excellent for that. But you can't fit big things in it, like papers or folders. There is room for a phone, wallet, gloves, one thin packable layer, kleenex, and sunscreen. Bags of food and drink won't fit. It doesn't seem to throw off the balance of the bike, and it has an ingenious magnetic clasp that really works.
Thank you for your feedback.
Daily Commuter
Texas, United States
2 of 2 customers found this review helpful.
This bag is easy to install and uninstall and has plenty of room to store phones, locks, snacks, keys, gloves, masks, and any small gear you may need.
I bike during my lunch hour and use the handlebar bag to carry my gloves, masks (during COVID), phones, and cycling caps. It is easy to install and uninstall. The magnetic closer makes it easy to open the bag while moving.
Thank you for your feedback.