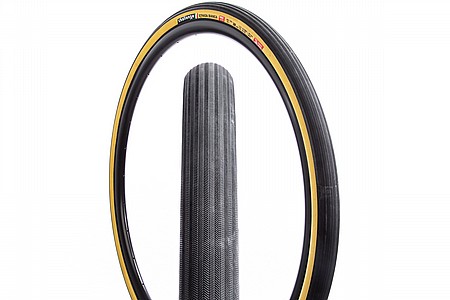 36c goodness
Yes, Yes, hard to mount, but it�s a patient process. 1. Put on rims without tubes, 7-10days. 2. During this time, push the carcasses around rims, like kneading dough 3. First tube mount use rubber tubes. 4. Right for a month, then switch to latex
Own three sets of Challenge cross tires, the labor is worth the ride quality
The Strada�s have been great so far, three rides since Wife gifted for Xmas (it�s 1-16-22 now) 120 miles, mixed terrain from road, bikeway, single track, gravel roads, and more. Running between 60psi (high) to a low of 47 gravel single track day in dryer conditions. Super happy, these will be my century tire, on Dura Ace C60 rims.
Read the FAQ at Challenge so interesting tire tips, winter rides, treatments etc.
Thank you for your feedback.
Cycling Enthusiast
Washingto DC area
3 of 3 customers found this review helpful.
Fast, Supple, Flat Resistant
I've been riding these for years and love their supple feel and fast spinup. I've commuted on them partly on rough city streets, winter and summer, and had very few flats - maybe one every thousand miles. They are also very nice on a mix of gravel and pavement - fast and comfortable on both. I weigh 175 pounds and found a sweet spot for the kind of riding I do at around 75 psi rear and 70 psi front - standard width road rims. While they are a bit pricey, the price is about the same as any hand made open tubulars. The difference is that they last much longer than (twice as much as?) similarly made and priced 25 mm tires. I find they mount quite easily even when new on Mavic Ksyrium wheels that have no rim tape. Other rims can be more difficult, especially when the tires are new, but mounting gets much easier over the first few hundred miles. One trick to make mounting easier has been to use thin rim tape such as that made by Continental. Another is to use metal tire levers when the tires are new. I have found the slight amount of extra fuss to pay off with very high quality ride.
Thank you for your feedback.
2 of 2 customers found this review helpful.
Very nice all rounder
I have used these for about a year as a set of road and mild gravel tires for my all rounder road bike. They are very flat resistent. They are a joy to ride on rougher surfaces. They are a bit of a pain to mount the first time, but are easy after that. They are a great fatter tire all road tire for road bikes. Try putting a tube in the middle of the tire and then mounting them on the rim the first time.
Thank you for your feedback.
2 of 5 customers found this review helpful.
Just won't go one a rim that I use
I was unable to mount these tires on HED Ardennes rims nor on Stan's Iron Cross rims. So, I've been unable to use them. Best I could do was to get one, wo a tube, on an old 29'r rim in attempt to stretch it out. I thought these would be perfect for running combo dirt and paved roads. And I'm guessing they would be if I could get them on to a wheel. Who knows? Maybe heat 'em up or something but seriously, why bother?
Thank you for your feedback.
Competitive Racer
Bellevue, WA
4 of 10 customers found this review helpful.
Feel amazing on the road but I'm too scared to ride them
As other people have mentioned in their reviews they're nearly impossible to get on the rim. With patience, it is possible. And the first miles on the road were lovely. However, mounting the tires was only the beginning of my trouble. They will not stay on my rims (Enve 2.3 SES). Every time I pump them up I have go to slowly and make sure the bead is seated. I pause at 50 psi for a while, get dressed to ride, and the slowly pump them up the rest of the way. Even then, twice I've had them come unseated at 90 psi and blow out as I'm pumping the other tire. Today it happened after a ride. Thankfully I was off the bike. I think if this happened while I was riding if the heart attack didn't kill me, maybe the ensuing accident would? I've never had this problem with any other tire. I even had a shop mechanic mess with them. I LOVE how these feel on the road but after 50 miles on them, I'm done. I don't trust them.
Thank you for your feedback.
Competitive Racer
Westlake villlage ca
1 of 5 customers found this review helpful.
Difficult close to impossible to mount on a rim
Probably very nice supple tire to ride on endurance strade biancha if you are lucky or know how to mount them on a rim -
Tried to mount them on 3 different set of rims , either tubless rims or cycle cross rims,
After some muscular exercices and despite some repeated exercices, i stopped , the bead is too tight for the rim edge especially tubeless
Oh well. If you are looking for light gravel tires for your Strade biancha , you may need to find other alternatives in the 30 mn size
Thank you for your feedback.
Cycling Enthusiast
Chicago, IL
2 of 3 customers found this review helpful.
Incredible rough road tire for distance country road touring!
These are expensive yes, but you are getting one of the smootheset, fastest, puncture resistant cobble stone capable tires made! These are rather difficult to mount new, but not that bad if you have experience with Challenge or other Open Tubular type tires. I mounted my wife's bike with the 30mm edition with talking of the tubes and patience. They took me a solid 30 minutes without issue, and without heating by using Schwalbe tire levers! Next I mounted the 36mm version on my bike with Velocity A23 rims with a little more difficulty, but tumble dry medium heat in your laundry drier for 10-15 minutes, then swiftly install with talc on tubes again. They are supper supple, fast and a joy to ride distance on rough chip and seal worn out country roads!! These treads hold up twice as long as the Vulcanized version and no flats at all, though flats have always been relative to the rider style and logistic. These are not city tires, these are rough open road race type tires, and are as good as I have ridden. I have ridden virtually every tire made. For our SS bikes in the city we ride Conti GP 4 Seasons, MTB XC we ride Conti Race King 2.2 and Challenge Gravel Grinders or Challenge Strada Biance Open Tubulars for XcrossGeavel bikes depending on terrain!!
Thank you for your feedback.
2 of 4 customers found this review helpful.
Supple and durable
I love the ride, durability, and puncture resistance of these tires. The initial mounting can be very difficult, but gets easier as the tires break in over the first couple hundred miles. In addition to the suggestions made by Challenge, Ive learned a few tricks that ease the initial mounting. First, use some heat - warm rubber is more flexible. Dont overdo it of course. I spin the new (clean) tire, contained in a mesh bag, through my clothes drier set to medium heat for ten minutes. I then rush to mount the warm tire before it cools. I also use a hair drier to warm the last bit of bead if it cools too much before Im done. Second, to avoid pinching during installation, start with thin tubes made for 2025 mm tires, slightly inflated and dusted with talc before mounting. You can switch to thicker or more expensive latex tubes after the tires are broken in. Last, get some big tire levers and be sure to carry them until the beads are broken in. Lezyne makes some nice 6 inch lightweight nylon levers that wont break or scratch your rims.
Thank you for your feedback.
Daily Commuter
Urban streets, Gravel trails
2 of 3 customers found this review helpful.
not so flat resistant
I love the way these tires ride, but not so much in terms of flat resistance. I have about 1000 miles on them and have had about 4-5 flats. In each case a small rock chip, piece of metal, or glass (I ride in the city) worked its way into the casing to the point where it penetrated the tube. I have pried out each piece, and the casing now has a small cutdivot. I am simply surprised compared to other tires I have ridden how much small sharp things work their way into this tire.
Thank you for your feedback.
1 of 1 customers found this review helpful.
Wonderful tire
I've got over 1000 miles of mixed use pavement and gravel riding. There are no cuts or tears in the tread. It looks like I should easily get 1500 to 2000 more miles out of them. I'm thinking they may be a good tandem tire but would like to see how this set functions as they completely wear out.
Thank you for your feedback.