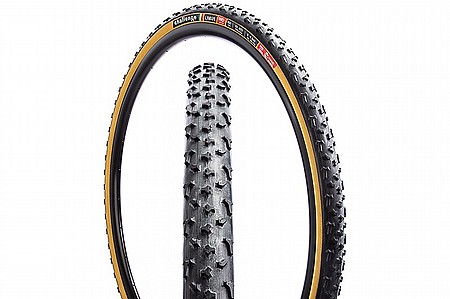 User submitted reviews
Review by verticalsuperior

Competitive Racer

dayton ohio

0 of 1 customers found this review helpful.

Great tire, does what it's supposed to-the rider can't blame the tires any more.

I've got these on a set of Bontrager Aura5 rims for my Trek Crocckett. Slipped a pair of Challenge Corsica latex tubes under them and the ride has been fine. The tires are soft and supple, form nicely to the demands of my weight in the turns, and haven't contributed to any pinch flats at low pressure (knock on wood). The tread is aggressive enough to pull me through the early-season wet grass and soft dirt, although I haven't had the opportunity to test them in deep mud and snow (I'm sure that's coming). My only gripe as a traditional roadie, i'm used to mounting tires with a stronger sidewall and bead, the Limus 33s are so soft in the sidewall mounting them takes a bit more patience. But well worth the hassle.

Thank you for your feedback.