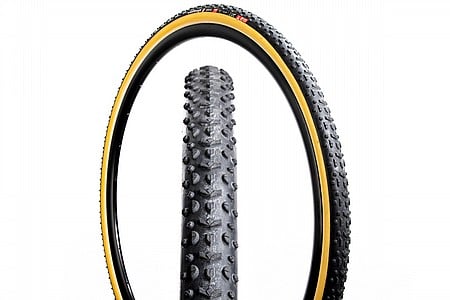 User submitted reviews
Review by Bobby

One season tire....great riding tire.

The best riding and feel of any CX tire I have used. Every tire I have used the tread has seperated from the casing. Lucky to get one season out of them.

Thank you for your feedback.
Review by Mike

5 of 5 customers found this review helpful.

A Contender

Before reviewing the specific tread pattern, Challenge makes high quality tubies for cross. The pro edition (what is being reviewed) and team edition (white sidewall, more expensive) are both very well built. They are round, mount easily, and overall have no base tape issues. They have a generally good lifespan and are a good value at the price. The suppleness is highly subjective to critique but you are not going to lose a race because of the suppleness of these tires )

The primary issue with the Grifo is the tread pattern, it is no as good as the MXP or FMB SSC. The MXP has better traction and sheds mud faster. I have had 3 unexplained slips on the rear wheel this season during dry conditions that never happened when using the MXP. For a true all around tread the MXP is king. If you are wanting to stay with Challenge the baby limus is a better option as you get a bit more bite with better mud shedding abilities.

Tip use aquaseal on the sidewalls (1-2 coats) before mounting, it will make a significant difference in the lifespan of the tire.

Thank you for your feedback.
Review by Rcsolak

Competitive Racer

Hamilton Square, NJ

1 of 1 customers found this review helpful.

Mega Confidence in these Tires

Love these. Sticky compound, tough treads - that really instill confidence in most conditions - minus extreme. You'll be flying in the morning dew races when the corners are a bit slick, and loving the sticky compound in the afternoon when the course turns to dry dust.

Thank you for your feedback.
Review by Anonymous

Cycling Enthusiast

Bay Area

Great tires!

These tires are everything you've probably read & heard about them plus more. My one piece of advise, put them on & pump up wo gluing for a couple days to allow the tires to stretch a bit!

Thank you for your feedback.