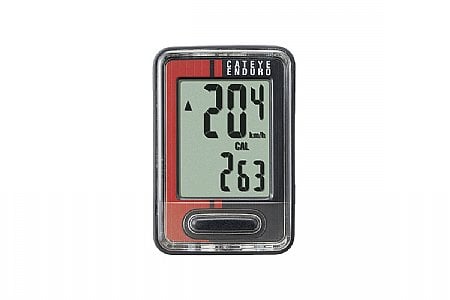 Cycling Enthusiast
Colfax, California
Cycling Enthusiast
Upstate New York
Cycling Enthusiast
Elyria, Ohio
2 of 2 customers found this review helpful.
Great basic computer
I bought a new bike & needed a computer for it. I bought a wireless & found it to be unreliable. I had used Cateye Enduros on my road bikes before and was perfectly happy. I sold the wireless & bought a new Enduro. They work perfectly, are easy to set up, & are nearly indestructible. I have one on one of my other bikes that's more than 10 years old & still works perfectly.
Thank you for your feedback.
Cycling Enthusiast
Northern Illinois between the bean fields and corn
9 of 9 customers found this review helpful.
Simply works.
This is a fairly basic model, but that simply means there are less things to go wrong with it. This little guy reminds me of the old specialized I had in the late 90's early 2000's that lasted about ten years. Also one of the bonuses of a basic model is it does not suck the battery dry.
Thank you for your feedback.
Cycling Enthusiast
Louisiana
6 of 6 customers found this review helpful.
Great Cycling Computer !
My last computer had to be turned on before riding. This computer wakes up when the wheel spins, which I like a lot..I would usually forget to turn the other one on when riding. Has a large display and heavy duty wire that runs to the magnetic sensor.. Excellent product!
Thank you for your feedback.
Cycling Enthusiast
High Altitude, New Mexico
20 of 20 customers found this review helpful.
Very Good Functionality for the LOWEST PRICE
My use I have one on my racing bike, my Mountain Bike, and one on my long-haul touring bike. I like everything, dislike nothing, don't use the CALORIE funcion.
FEATURES All the functions you need are there (Speed, Distance, Cumulative Time, Average and Max Speeds). I do not use the Calorie or Carbon-offset features, but for $29.99 (a price that is $1-$6 less than average market price) this is one tough computer.
DURABLE The wire is extra fat (with extra insulation to protect from bush scrapes on Mountain Bikes).
WORKS ON ANY BIKE, ANY TIRE All of the popular and standard tire sizes are already listed in the CALIBRATION table. Many of the rare or bizarre sizes are also listed. My Novara Safari has huge tires that were NOT in the list. No problem. If you have an unlisted tire, get out a centimeter tape measure, and directly measure the circumference of your tire, and enter the answer in centimeters (222 in my case) into the computer.
ACCURATE I use my MTB's computer to measure cross-country running race courses. You can adjust the CIRCUMFERENCE number up or down until it's just about perfect (to within 2 meters per mile). You can calibrate it by going around a 400-meter high school track 4 times (or 400 times) and see if it reads exactly 1.600 km (or 160.00 km).
BATTERY Easy to change and possibly the most common watch battery out there.
SET-UP TIME Same as most. I'm slow and deliberate and it took me 5 or 6 times (that is 2 minutes) to comprehend the set-upcalibration process. Total install and set-up time was about 20 minutes the first time, 15 on the second bike, and 10 minutes on the third bike.
Lots of bang for just $30. I highly recommend it.
Thank you for your feedback.