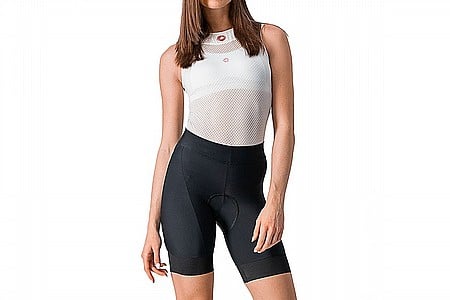 Casual Cyclist
San Jose, CA
Perfect fit
A friend encouraged me to dive off the deep end and purchase high-quality gear, even if I'm just a newbie at cycling. I can't agree more with her recommendation on Castelli. They fit perfectly the grip is great no riding up the leg and the waist is great no slippage and oh boy the padding is fantastic.
Thank you for your feedback.
Cycling Enthusiast
Fort Worth, Texas
2 of 2 customers found this review helpful.
No better or worse than Pearl Izumi riding shorts.
Curiosity, and the anticipation of an excellent product prompted me to buy these riding shorts. Perhaps my expectations were too high, because I did not find where these shorts were any better, or worse than Pearl Izumi shorts-the brand I've been using for several years.
The shorts are very comfortable, and fit well. In regards to the size chart, I disregarded the suggestion to order a larger size. I wear a small, and found the shorts were true to size. My short rides are 30 miles and my longer rides are 50 miles, so I appreciated the padding- the KISS pad delivers on its promise of comfort. My one complaint is the logo on the shorts.
The logo of the lobster looks so cool, it's discreet, but at the same time let's everybody know you are wearing Castelli. No doubt, that is the desired effect. I was disappointed that after three washes (hand washed, and air dried, the logo began to peel off. If consumers are paying for the name Castelli, shouldn't the logo be made to withstand hand washing. In addition, I was very surprised at how the material bleeds. Once again, I hand wash my shorts, and I've not seen that type of bleeding in my Pearl Izumi shorts.
In short, the shorts are a good product, but you are paying for the name. I hope this information has been helpful.
Thank you
Thank you for your feedback.
Uncomfortable
I've had other Castelli shorts, but was disappointed with these. The material is flimsy. They crawled down from the waist and crawled up on the legs. Kept one pair because I was desperate for a pair of shorts, but sent the other pair back.
Thank you for your feedback.