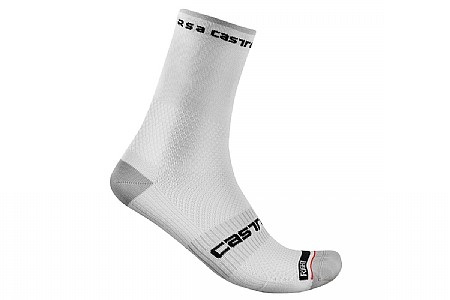 Disappointingly Small: Castelli Rosso Corsa Pro 15 Sock Review
I recently purchased the Castelli Rosso Corsa Pro 15 Socks, hoping to add a touch of style and comfort to my cycling gear. As an avid cyclist, I understand the importance of quality socks, and Castelli's reputation led me to have high expectations. However, I was left utterly disappointed as soon as I tried them on.
The primary issue with these socks is their size, or lack thereof. I typically wear a size large in cycling socks, so I ordered the corresponding size (XXL) for the Castelli Rosso Corsa Pro 15 Socks. To my dismay, they turned out to be far too small for my feet. Even after carefully following the size chart provided by the manufacturer, the socks felt uncomfortably tight and restricted.
The sizing issue is not just a matter of personal preference but a significant flaw in the product. The socks are simply not designed to accommodate a wide range of foot sizes. This is quite surprising considering Castelli's reputation for producing high-quality cycling apparel. It's frustrating to invest in a product that is supposed to enhance your cycling experience, only to find that it fails to provide the basic comfort and fit required for a long ride.
On the positive side, the socks do provide decent moisture-wicking capabilities, which is crucial for keeping your feet dry during intense rides. The breathable mesh panels also aid in ventilation, preventing excessive sweat buildup. However, these positives are overshadowed by the glaring size issue.
In conclusion, the Castelli Rosso Corsa Pro 15 Socks are a letdown due to their extremely small sizing. While the moisture-wicking properties and breathability are commendable, these positives are not enough to justify the high price when the fundamental aspect of fit is so poorly executed. If you have larger or wider feet, I would strongly advise looking for alternative options that offer better sizing options and a higher quality material.
Thank you for your feedback.
Superb, Well Made Sock
Firstly, they run small. I wear a 42 Sidi shoe, but wear a L/XL size Castelli sock. All their socks are high quality and look great. From these "summer" socks, to the thicker wool-blend socks, I am a customer for life when it comes to Italian-made Castelli socks.
Thank you for your feedback.
Competitive Racer
Evergreen, CO
Socks run very small
I own several Castelli bib shorts and several jerseys. Generally I find them excellent. These socks, however, run very small. I bought size L/XL, per the size chart. I wear an 8 1/2 size shoe. When I tried to pull the socks on they ripped up the side. Tried the other one and it ripped too. I don't believe I used excessive force or was careless, especially when I tried to pull on the second one, but the socks were very tight. I should have returned them but didn't want to put up with the hassle.
Thank you for your feedback.
Cycling Enthusiast
Erie, CO
Once it's on, it's fine
The socks are quite comfortable, once they're on. They are a tight fit, however, and even though they are right and left foot specific, they are hard for me to get on. Maybe my difficulties are age related, but I think anyone would have a bit of a struggle getting these on. Once on, though, they do a great job of keeping the feet cool.
Thank you for your feedback.
Cycling Enthusiast
Wasatch Front, Utah
Cycling Enthusiast
Hayward, WI