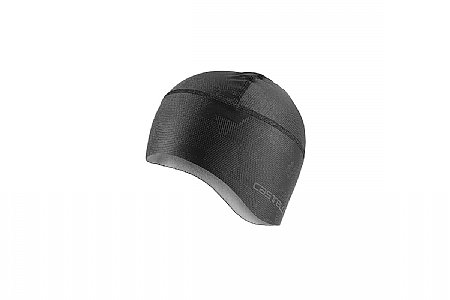 Cycling Enthusiast
Beaverton, OR
Super thin, yet really works
Super thin, insulated, and it really works. Covers the ears well. Fits under the helmet well, and I use this anytime the temps drop below 42�. I�ve even worn it this past December �22 in a 50 mile ride where temps dropped down to 24�. Very comfortable.
Thank you for your feedback.
Cycling Enthusiast
Nashua, NH
1 of 1 customers found this review helpful.
Meh. Could be better for the money. Not windproof or very warm.
This skull cap is definitely not Castelli's best product by a long shot, but it's not horrible either.
On the positive side, it's reasonably warm for its thickness, which isn't very thick and provides warmth down in to the 30's, so long as it's not very windy. Fit is excellent, even for my large melon (7-7/8") with room to spare. Wicks and breathes pretty well too.
Where this falls short is windproofness - it's only very mildly wind-resistant, probably up to low to mid 20mph range. You will definitely feel wind through it above 25pmh, especially sustained winds/headwinds over 30mph
On a ride today where the winds picked up as a I got into later afternoon in temps of the low 40's to upper 30's, my head was chilled as the sustained winds got above 25mph. Calling this a 'thermal' cap is a bit of stretch in my opinion - and that's saying something because I run warm and heat up even more when I ride, so for me to notice shortcomings in a skull cap is notable.
There are definitely better options from Gore Wear and Pearl Izumi, especially for colder temps and needing true windproofness. I'll likely keep these for riding in mid 40's to mid 50's temps with low wind, but will use other options for colder windier days.
Thank you for your feedback.
Cycling Enthusiast
Winston Salem, NC
Cycling Enthusiast
Ft. Worth TX
2 of 2 customers found this review helpful.
PERFECT Cool-Weather Headgear!
Was specifically looking for a low-profile skully, to wear in our usually-mild deep South cooler wx / winters. There are a LOT of similar choices out there, with seemingly wildly varying prices, most with a fair amount of negative reviews, for some reason: too small, doesn't cover ears, ill-fitting, etc.. My ears are quite sensitive to cold, so that is a deal-breaker for me. Fortunately, this Castelli Pro Thermal Skully turned out to be ideal: snug-enough fit to stay in place, but not tight. Material is thin enough to not affect helmet fit, but is warm enough, and seems to be windproof, and covers my ears (precise fit is adjustable enough that it would seem to be able to fit nearly any size head). Fabric seems to be pretty breathable, too, and should do well in cold wash + air-dry. VERY happy with it!
Thank you for your feedback.
Cycling Enthusiast
Hilly East Tennessee
1 of 1 customers found this review helpful.
Just right
Castelli kits just fit better. The thermal skully is no exception. I like this new version as it comes down lower to cover my ears. It is thin enough to fit under my helmet. I have been using the skully and the head thingy together in temperature between 32F and 50F.
Thank you for your feedback.
Cycling Enthusiast
Detroit
3 of 3 customers found this review helpful.
Keeps head warm
Really nice piece of gear. It's very thin, but keeps my head warm under my helmet during winter rides. I regularly ride for over an hour in 25F-30F degree weather (plus windchill).
Thank you for your feedback.