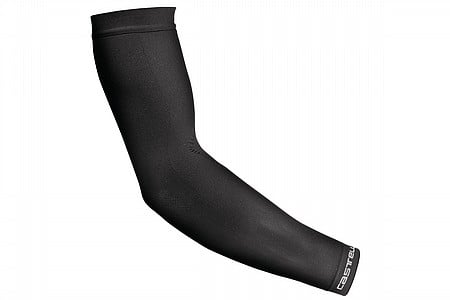 1 of 1 customers found this review helpful.
Perfect!
These arm warmers are exactly what I wanted. They're light and roll up small, yet they're surprisingly warm. I have some other-brand arm warmers that work well, but they are stiffer, heavier, and not much warmer. They have seams, so you need to get them on just so. The wrinkle a bit in the inside elbow, so they aren't as comfortable.
A nice thing about these sock-like warmers is that you can just roll them down to the wrists for the climbs and back up for shady descents. No need to take them all the way on and off over gloves.
Also, these stay smooth and don't wrinkle or bunch up, so they stay aero.
They stay up just fine, but I use a trick: smear a light layer of Vaseline on arms/legs where you want the warmers to stay up, and they won't slip down. These warmers stay up pretty well on dry skin, but I always use my trick before riding for 100% reliability. I hate when warmers slip during rides!
These are really perfect for cool and variable conditions. And they do surprisingly well down to the high 40s (~9C).
Thank you for your feedback.
Competitive Racer
SE Michigan
1 of 1 customers found this review helpful.
Favorite arm warmers.
Castelli nailed it with these seamless leg, knee and arm warmers. They must use a very high loft insulating fiber to knit them. They are super soft, stretchy and very warm for their weight and thickness. Although they look small when you get them, they stretch a lot. And thus far have not lost their shape or rolled down.
Thank you for your feedback.
Cycling Enthusiast
Plano, TX
Warm and comfortable
Surprisingly warm and very comfortable. These are short for me (I wear 36-37 in. dress shirt sleeves) -- even shorter than other arm warmers that I wear -- but I still like them when a need something mid/light weight for 50-60 (F) temps
Thank you for your feedback.
Cycling Enthusiast
Seattle. WA
2 of 3 customers found this review helpful.
Excellent mid-temperature arm warmers
Over the years I have used Pearl Izumi pro thermal arm warmers. Those are great but I always wanted something that was a touch less warm and more breathable. I found the perfect pair of arm warmers in the Castelli Pro seamless 2. They provide just enough warmth for nippy fall days, but are much more breathable than my pearl izumi ones for hard intervals. Also, I thought that it couldn't get more comfortable than the pearl izumi ones, but these are even more comfortable, and they are very well constructed with a very engineered fit. Highly recommended.
Thank you for your feedback.