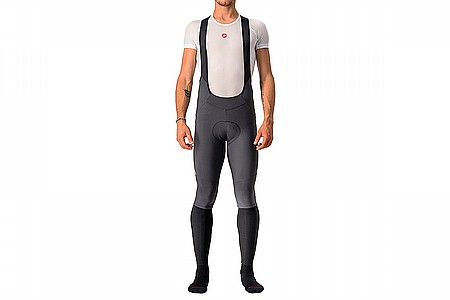 Cycling Enthusiast
Southern Maine
Great cold weather tight
These are my first set of bibtights, and I've been very happy with them so far. I've worn them in rides as cold as 37F and been plenty warm for two hours. I don't go tend to go longer than that this time of year, but I've been glad to extend my outdoor riding season. The material seems a little slipperier on my saddle than my other bibs, but I'm not sure if that is just due to lower humidity in the fall air--it hasn't impacted my rides, but I have noticed it at times. I'm curious about the longevity of the stretch ankle openings (instead of zippered openings), but time will tell on that.
Thank you for your feedback.
Cycling Enthusiast
Saugus, MA
Very comfortable with the Kiss Air2 chamois.
I own an older pair of bib tights with the Kiss Air pad and the Air2 is definitely a improvement, I didn't hate the first version but this one closes the gap with the Progetto pad considerably - seems a little bit softer with better fabric covering it. As usual Castelli's design and quality is excellent even on their less expensive offerings. The only real noticeable difference for me when compared to their higher-end bibs is the shoulder straps not being laser cut but they don't seem to dig in while riding so not really an issue, it might be more noticeable for taller cyclists. The temperature range Castelli shows on their website (46-61�F) is probably accurate for most people but I've worn them on a ride with temps around 40 and stayed warm enough, once the sun started getting low I felt the cold creeping in a bit so I wouldn't wear them in temps below 40. I also appreciate the fact that there are no zippers on the ankles, I typically wear overshoes and would much rather have only one zipper as two will sometimes create discomfort.
Thank you for your feedback.
Cycling Enthusiast
Missoula, MT
6 of 6 customers found this review helpful.
Love it, the Kiss Air2 pad is much better than my PI bibtights
I am 5' 8" and a pretty fit 175 lbs or so (not a super lean bicyclists build but not fat either), I bought an XL and it fits great. I mainly bought these for cool, wet mountain biking due to a very rainy spring this year AND to try out Castelli bottoms. I typically wear these when it's 40-60 degrees out and they are just fine, I think I could easily, comfortably ride these in to the 30's (and plan to do so this fall). My absolute favorite thing about these bibtights tho is the Kiss Air2 pad, it is so comfy, I wish I would've purchased these years ago. I have been riding Pearl Izumi bottoms for a decade and they are so-so comfy wise, I just thought they were the industry standard so I didn't think there was better gear out there. Anyhow, here's where the Castellis are so comfy: I live in a valley and most of the fun MTB rides are an hour(s) long climbs on logging roads. With the PI gear I start to get a buttache about 1/2 hour in, but with the Castelli gear I can climb a couple of hours without being forced to constantly change my seating position or stand up on the pedals just to give my bum a break. I've already bought some more Castelli bottoms and they are also very good.
Thank you for your feedback.
2 of 4 customers found this review helpful.
Hard to go wrong.
Warm, comfy, good stretch, price is okay, nice chamois, look good, mellow branding, appropriate reflection, easy to put on despite no zippers at leg opening. Haven't ridden them in rain yet but previous Nanoflex items worked well in moderate precipitation. Bonus: if you're a socks-on-the-outside type no zipper = no chafing.
Thank you for your feedback.