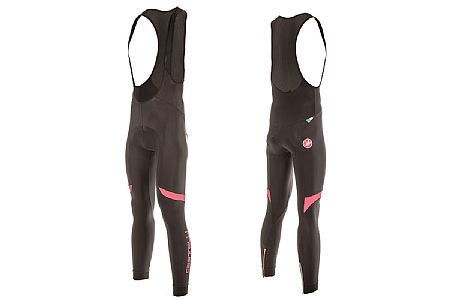 Cycling Enthusiast
Central Massachusetts
3 of 4 customers found this review helpful.
Disappointing bib tight from a respected manufacturer
I love my Castelli bib shorts so I was expecting great things out of these bib tights. First, let me say these run small, so if you order them, order at least a size up. I had to exchange mine for a size larger than I normally wear. I'm 5'11 and weigh 165 lbs. Even in a large, these tights are still very snug around my thighs and calves. Despite the snug fit, they bunch up behind my knees, making them slightly uncomfortable, but not unbearable on the bike.
I was hoping to wear these toasty tights in temps down to 25F, but found out that wasn't going to happen. I've worn them in temps as low as 35F, but wouldn't really recommend them much lower than 40F.
Finally, the ankle zippers don't stay zipped, probably because they're so snug around the ankles. They tend to unzip themselves as you ride.
Thank you for your feedback.
Cycling Enthusiast
Bay Area, CA
Daily Commuter
Cincinnati, OH
1 of 1 customers found this review helpful.
Solid Well Priced Bibs for Cold Weather
As a daily commuter regardless of weather (pouring rain is my cop out) the bibs have worn well. I have typical cyclist build at 5'8 and 165lbs and wear a medium. If you have a gut buy a size up. This is traditional cycle wear athletic fit. Yes, they pull on your shoulders when standing upright but when on the bike they fit great. The pad is comfortable and nothing rubs when riding. I cut out the massively long tag on the left side of the bibs before wearing. I read about these are cheap and the logos wear off after a single wash. If you own a bunch of outdoor gear like myself, most manufacturers tell you to turn the garments wrong side out when washing. As far as temperatures go, I have down into the low teens with these bibs. But, bibs are only a small part of a solid cold weather cycling. No such thing as bad weather, just the wrong gear.
Thank you for your feedback.
Competitive Racer
Dallas, TX