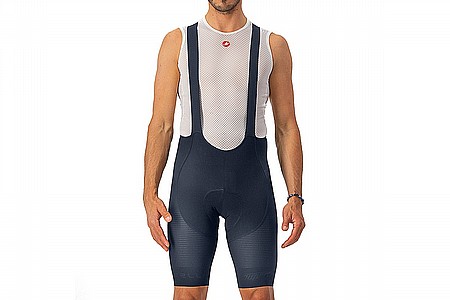 User submitted reviews
Review by Chirard

Cycling Enthusiast

Missouri

2 of 2 customers found this review helpful.

Good Cool Weather Bibs

I bought these shorts because I sometimes ride on gravel and more often on chip-seal asphalt, either of which could give a nasty case of road-rash if I hit the ground. I've only worn them in cool weather so far and they're good for that because of the 2nd layer on the outside and front of the lower thighs.

As for sizing, I don't understand a 165-pound 34-inch waist reviewer buying size XXL because that's the size I bought and I'm 6'0, almost 215 pounds and close to a 38-inch waist. I'm much more in line with the Castelli size chart. They're snug but not uncomfortably so. I sized up from my usual XL size in other brands and I advise others to do likewise.

Thank you for your feedback.
Review by cbratina

Cycling Enthusiast

Litchfield, Connecticut

1 of 2 customers found this review helpful.

Fantastic Hot Weather Shorts

I sweat profusely when it is 85 deg and humid when riding hard. Even my Rapha Classic bib shorts would be soaked and starting to rub me uncomfortably. By the Superlegerra has been fantastic, breathing very well and not accumulating sweat. I wear them now for temperatures over 75 degrees.

The Superlegerra jersey is an excellent match, much more comfortable than my Rapha Flyweight jersey.

The only Castelli issue is sizing. The XXL bibshorts and jersey fit my body very well, but note that I am 5' 11", 165 lbs, with a 42" chest, 34" waist, and skinny legs.

Thank you for your feedback.