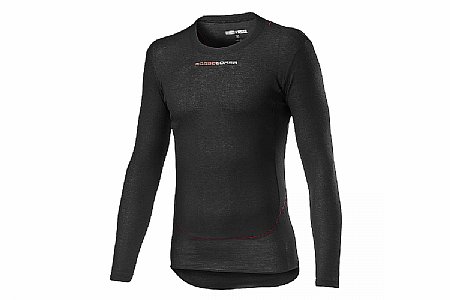 Perfect Piece of Hi-Tech Base Layer
I am really happy with this Castelli Men's Prosecco Tech Long Sleeve Baselayer !
It is light & you never really notice it till you realize it is working & working very well!
It is never hot/overheated yet keeps me warm & more importantly when working hard dry too.
Really an amazing piece as I have had many various base layers before but none ever work as well as this one
That I also got it on sale at Bike Tires Direct was a bonus! I have also come to really like shopping here at Bike Tires Direct with their Gold Member specials + VIP Points for future purchases & lastly great Price Matching Policy!
A+++
Thank you for your feedback.
Cycling Enthusiast
4000'' elevation
Very Nice wide Temp range
I am not sure this will be helpful as I see it is out of stock now but......Perhaps will be restocked?
In any case a very fine lightweight LS base layer. I find it has a wide temp range & use it from 45-75 degrees no problems.
It is nicely fit & does no bunch up anywhere. When cold it feels good & nicely warm yet when it heats up it feels nicely cool lifting sweat away from skin
Overall very nice & wide range of temp usage
I am a 37" chest 146lbs 5'8" & the Medium fits nicely. I may have been ok with the Small too but med is fine
Thank you for your feedback.