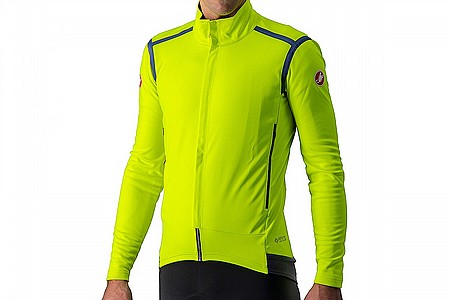 Cycling Enthusiast
Nashville
1 of 1 customers found this review helpful.
The Best
Jacket I've ever owned! Completely versatile depending on what you put underneath. I�ve ridden it in 38 degrees, and 58, completely comfortable in all temps. Wind doesn�t get in, and it�s very breathable. I had a ROS alpha and it�s a great coat, but nowhere close to this versatility. Haven�t tried in the rain yet, but I�m sure it�s fine. Fall, winter, spring this is all you need. Snug fit, but it�s for riding in riding position like which I prefer. Pricey, but worth every cent.
Thank you for your feedback.
Cycling Enthusiast
Nashville
1 of 1 customers found this review helpful.
The best!
This is the best jacket I've owned. It's extremely versatile, you can layer up or down. The gore tex does the job for wind block, and it's very breathable. Haven't worn it in the rain, but I'm sure it would work well.
Thank you for your feedback.
2 of 2 customers found this review helpful.
5'9
Castelli sizing is always confusing to me and I think the rule of thumb is to order a size larger than you would with other brands. This was no exception. I originally had a medium size of the Perfetto and it was too tight to the point it was hard to take a full breath in let alone fit anything underneath. Would probably fit someone thinner (although I'm not that big - 30" waist). I went with the Large as it has a big more wiggle room for a base layer. Still tight enough that it doesn't flap in the wind.
Great as a single layer at 50F. Below that I wear another jersey or a mid-weight long sleeve depending on how cold.
Thank you for your feedback.
Cycling Enthusiast
Edmonds, WA
3 of 3 customers found this review helpful.
Perfect, as the name implies
I got this jersey for winter riding in the Seattle area, something to block the wind and provide warmth and water resistance. This jersey checks all the boxes. It blocks the wind very well and yet breathes better than any "breathable" garment I've ever owned. The insulation is not so heavy as to be too hot and the jersey works well with a base layer to adjust for cooler or downright cold temperatures. I've never been more comfortable riding in the winter when temperatures are typically in the high 30's to mid 40's. I haven't worn it riding in any significant rain yet, but when I splashed coffee on the sleeve it beaded right up so that a good sign! I usually wear a large and got an XL which fits well. It seemed a little snug at first, but after a couple of rides it felt just right.
Thank you for your feedback.
Cycling Enthusiast
Eugene, OR
2 of 2 customers found this review helpful.
Works well in hard rain
I bought this jacket (not a jersey) for winter riding (rain and cool/cold conditions). Today, it got tested. Hard rain at 45F and 15-20 mph wind. I was comfortable and stayed pretty dry. I am 6' and 172 lbs and I bought the 2x so that I could wear a couple of layers beneath it for cold conditions. I normally wear a L size Castelli jersey. This fits pretty snuggly, so when in doubt go at least one size larger. The rear pockets are large and useful. The fluorescent green is particularly useful for poor lighting conditions.
Thank you for your feedback.
Cycling Enthusiast
Bay Area CA
5 of 5 customers found this review helpful.
Just brilliant
Great jacket for mid 30's to high 50's. Goretex is fantastic for wind block. With a base layer under is just the perfect jacket
Sizing is small so use the size chart to the letter. I have a 42" chest. And 2XL is just right even though I'm L on most other brands
Thank you for your feedback.
Cycling Enthusiast
Minneapolis, MN
4 of 4 customers found this review helpful.
Love my Castelli Perfetto LSJ! Wear it whenever temps dip below 45-50F. Sleek, comfortable and warm.
Don't go by their size chart. They fit very tight and very small. I started with a Men's Medium to be on the safe side and ended up with a Men's XL. Now wish I had ordered an XXL. I am 5' 8 and weigh 150 lbs - the sizes are way off, but you'll love it when you get one that fits.
Thank you for your feedback.
Cycling Enthusiast
N Idaho
Cycling Enthusiast
Charleston, SC
8 of 8 customers found this review helpful.
Great lightweightstylish race jacketjersey that fits snugly
Nice jacket, with thin technical fabric that is soft and stretches. I haven't ridden it yet but it feels like it will block the wind and light rain very well. Some have warned you need to size up twice from your normal jersey size due to the snug fit in the arms, chest, and shoulders(especially if you intend to wear a thermal base layer).
I bought an XL, whereas the sizing from Castelli indicated a large might be right(40 chest is between L and XL). The XL fits me with my Nike baselayers, however, it is a very snug, race fit. All the other dimensions for a Large fit me fine, except I thought the neck might be a little loose.
Since I plan to use the jacket more for group rides and training rides, I'm considering going with the 2XL instead of XL to give me more room for layering, and a less aggressive fit.
These are my measurements
Chest - 40
Waist - 32.5
Hip - 35.5
Neck 15.5
Biceps - 11.5 - 12.5
Height - 5' 11
Weight - 160 lbs
Thank you for your feedback.
Competitive Racer
SE Pennsylvania
3 of 6 customers found this review helpful.
It's a lightweight jacket, not a jersey
I was expecting a cool weather jersey based on the description, in the nice looking steel blue with red trim. When I opened it I thought BTD sent me the wrong item, but the labels said it's what I ordered. Bummer. First, it's not blue, not even the slightest hint of blue, rather it's slate gray, or maybe light charcoal, with orange trim. Then the second problem for me is that it's a jacket. I already have the Alpha RoS jacket, which I love and has a wide temperature range, and this is just a lighter jacket that I don't need. I wanted a jersey that's actually a jersey, soft & stretchy like a jersey. But no, this is more stiff fabric, definitely a jacket, not gonna work as a jersey.
So if I wanted a gray with orange trim lightweight jacket, the Perfetto RoS would be fine and I'm sure I'd like it. True to Castelli, it's about as form-fitting as a jacket gets. But since that's not what I ordered, I sent it back. The problem is more with the description than with the product.
Thank you for your feedback.
1 of 1 customers found this review helpful.
5 STARS
Best Winter coat I've found yet.
Blocks the wind & chill @30 deg. using a good base layer just perfectly. Haven't used in full rain yet.
Typical Castelli fit > 'European' trim & slim. 5'8"/ 128lbs. = Medium
Thank you for your feedback.
Competitive Racer
Salt Lake City, UT
4 of 6 customers found this review helpful.
Great piece of kit for the worst of conditions.
I've been looking at this jersey for a while now and finally decided to pull the trigger. I couldn't be happier. It's not really a jersey, and it's not really a jacket, or maybe it's both. It doesn't matter what it is, only that it does what it was designed to do perfectly. I hate riding in jackets with any amount of flap, so the RoS jersey is perfect. The jersey is very windproof, which makes it exceptionally warm for its weight. With a thin long-sleeve base layer underneath, it has been very comfortable down to the low 40's. There are vents on the side that are functional, but I'm not sure they would be enough it warms up. I got the blackout color which is nice and stealthy with its use of logos. The sizing is, well, it's Castelli. I am 6' 2" and just a hair under 170lbs most days and got a size large. I like the fit, and it's snug. I only wear one thin base layer underneath, like a jersey. That is the fit that I wanted. I probably could have gone with an XL as well if I wanted more of a jacket fit. The bottom line is that it is an excellent jersey for cold, wet weather. You need to make sure you get the right fit for you.
Thank you for your feedback.
4 of 4 customers found this review helpful.
Good cool weather upper
This is a very nice garment. The look is very good and the feel is nice. It keeps you warm. The one big concern for me is the sizing. This must be a Castelli brand issue. Their sizing definitely does not fit the description. I am a 44 chest which should be an extra large. But for this jersey I would need like a double extra large to be comfortable. Castelli XL is like a medium so definitely go a size larger when ordering.
Thank you for your feedback.