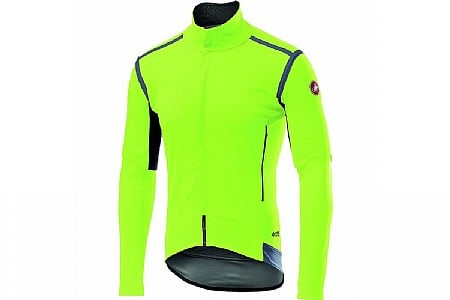 Cycling Enthusiast
Nashua, NH
2 of 2 customers found this review helpful.
Decent, but needs work. Not worth the money IMO.
Overall this is a decent jacket, but overpriced even when on sale for its ultimate value and usefulness and it could definitely use some improvement, because its shortcomings are pretty glaring.
Its construction quality seems excellent, but I've only used it once so far, so take that with a grain of salt. Zippers work well, without binding. While thin, the Gore Infinium blocks 85-90% of wind, so you don't really feel much until the wind picks up over 40mph, then only little, especially if you're wearing a thermal jersey below. This is definitely a jacket that will top out in the mid to upper 30-degree area with a thermal shirt, especially once the sun goes down.
The jacket breathes pretty well and the chest zips help there too, though they're useless as pockets. The back pockets are good size for storing stuff if you fancy that sort of thing. The chin area is great, didn't find any rub or chafing with it zipped all the way. The hi-vis yellow is bright enough blind people could likely see it.
As for shortcomings, there are quite a few. Fit is very problematic, even by Castelli's overly-small and inanely undersized standards. I'm a 43" chest, 6' 3" and 205lbs, which usually puts me in there 2XL shirts and jackets. This jacket is pretty tight.
This jacket is more snug in the torso than Castelli's norm and the sleeves are narrower than usual, enough so that getting sleeves on - and more particularly off, especially a sweaty shirt - over a thermal shirt is tough. The bicep is REALLY small for the size, so if you're muscled it's really tight and forget about it if you're super muscular, because the sleeves have little stretch. Apparently this was designed for scrawny armed riders? The elbow area, where the sleeve detaches, is even more constrictive, to the point where I found I got mild numbness on a road bike ride over 2.5 hours, which my arms largely bent the majority of that time. Castelli should enlarge the sleeve a bit, because other manufacturers jackets fit better, without sacrificing aero qualities.
The other area that drove me nuts was trying to get the sleeves back on as the day cooled down and I needed them again, because the zippers' starting points is 2/3's of the way around toward the back of the arm, which means that even if you wrench the material forward a bit, it's still really hard to see where the starting point is and engage the zipper, which is further hindered by the zippers being so small. If you're farsighted like I am, and/or tired when trying to put them back on, it takes inordinately long to get them back on - add more aggravating if you're cold I'd imagine. Castelli should revisit the orientation to be more user-friendly.
Thank you for your feedback.
My favorite cold weather jacket.
Love the warmth, wind blocking. Snug but stretches and form fitting. Easy to take off sleeves, color coded. Bought fluorescent yellow. Striking! Only complaint is it was snug in armpits. Has loosened here with more rides. Great for South Texas rides that start cold and end warm in the mid 60s.
Thank you for your feedback.
Cycling Enthusiast
Port Townsend Wa
2 of 2 customers found this review helpful.
I like high vis for safety reasons but it's really hard to keep it looking pristine
I ordered the high vis yellow because I don't want the motorist who runs me down from behind claim he didn't see me which is good what's bad about it is that it's hard to keep clean especially if you encounter really grimy conditions so all is good on nice days with clean roads. If it had a black back panel like my vest It would be way better. I'm 5'7" and 150 and the large is nice and snug which it should be, nice stretch to the fabric. It blocks the wind really well and rain beads up on it. It also breaths really well, 0 claminess.
Thank you for your feedback.
4 of 4 customers found this review helpful.
Amazing Jacket
It is expensive. However, it is flexible. I have worn this with a merino base layer, and regular jersey at around 38F and been comfortable. I have also worn this with a jersey and the vents open at 48F and been comfortable.
The only con I will say is the fit. It is tight in the shoulders and the arms are snug where the sleeves zip on. I was about to return what I ordered which is a medium (I normally wear small so still size up) as it felt overly tight then I got on the bike. In a riding position where it is tight is just right.
Thank you for your feedback.
Cycling Enthusiast
keller, Texas
1 of 1 customers found this review helpful.
Great Jacket
Great jacket for wind, rain, and cool weather protection. I have used it several times with one base layer when temperatures were in the 40s and have been comfortable. And the ability to remove lower sleeves is a big bonus when temperatures rise. Trim fit thru torso and arms.
Thank you for your feedback.