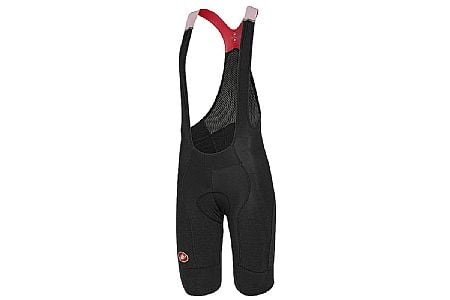 Cycling Enthusiast
Boston, MA
1 of 1 customers found this review helpful.
toasty warm
For those chilly early spring rides, these are amazing! I ride along the coast in MA, just south of Boston, so the winds and chill can sometimes be a bit grueling. Just add some thermal leg warmers to keep the calves warm and as the sun comes out, ditch the leg warmers and your thighs (and bits) will stay toasty warm.
Quality to be expected from Castelli - exceptional. Chamois is great too!
Thank you for your feedback.
Cycling Enthusiast
Bothell, WA
Cycling Enthusiast
New Albany, Ohio
0 of 1 customers found this review helpful.
you will love these.....if the fit is correct
First of all, I am 6ft 1in, with average length legs. Bought a large, and they fit just right. While standing, they stop at the bottom of my kneecap. In the saddle, they stop at the top of the knee. I believe that this is how Castelli designed them to fit. I would say, perfect for rides from the high 40's to low 60's. The omloop bib is VERY comfortable, and has Castelli's best chamois. They are not as compressive as race aero bibs, (which I swear by) but, for cool days, these are great. If you have short legs, the Omloop is likely not for you. They probably will not fit as designed by Castelli. In that case, go with their Nanoflex light bib, for better length. For me, the Omloop bib is a winner.......
Thank you for your feedback.
Cycling Enthusiast
Ventura County, CA
Comfortable, cool weather bibs
Omloop bib shorts are slightly longer so they extend to your knees. The fabric is soft and slightly thicker so the bibs are good for cool rides during fall or early spring. Fit is what you would expect from Castelli, so size up as needed. Despite being a bib for cooler weather, it retains the minimalist feeling so you'll be comfortable when on the bike, especially in the drops. If you can get these sale, it's an even better buy.
Thank you for your feedback.
Competitive Racer
Willow Springs, IL
Nice warm pair of bibs
These are the perfect bibs for that weather which is too warm for the full length thermal bibs but is still too cold for regular shorts.
I purchased these for rides or races where I would start with leg warmers. But then later when I was warmed up and the temperature increased I could take off the leg warmers and still be comfortable.
These shorts reach down to the knee so there is a bit more coverage than typical shorts. Although, I don't have any other Castelli, so I can't comment on if they are typical Castelli length or not.
The chamois in these shorts is also super comfortable. It's great construction which I expect will last.
Thank you for your feedback.
Daily Commuter
Boulder, CO
Castelli Thermal Bib Shorts provide warmth for the thighs but have uncomfortable straps
Opinions vary about how long the leg material should be. After looking at picture of pros wearing these, and reading articles, the leg material should not cover the knee cap, because then the material behind the knee could bunch up when the leg is flexed. The chamoispadding is great and the shorts feel very good when riding and keep me warm. I am 6' 2 with a 33 waist and 34 inseam, so I do not consider myself as having a long torso. I sized up when buying these (XL instead of L) but the straps are so darn tight on my shoulders. Hiking these shorts up as much as possible does help a little, but I wouldn't want to wear these for much more than an hour. The straps on my recently purchase Louis Garneau Equipe Bib Shorts Neo-Classic (size L!) have very forgiving and very comfortable straps by comparison. But since I'm a daily, year-round bike commuter in Colorado, I will still make use of these thermal bib shorts paired with long snowboarding socks on winter mornings if it isn't so cold that I have to wear a pair of tights. These would have gotten 5 stars if the straps were a full 2 longer.
Thank you for your feedback.
Cycling Enthusiast
Portland, OR
Take a couple of rides to get use to.
I have worn these on my morning commutes. They are very comfortable and fit great. The legs coming to the knees took a ride or 2 before I didn't notice. Only negative was I thought they are not as warm as my Soprasso knickers (rides in the 40-50's).
Thank you for your feedback.