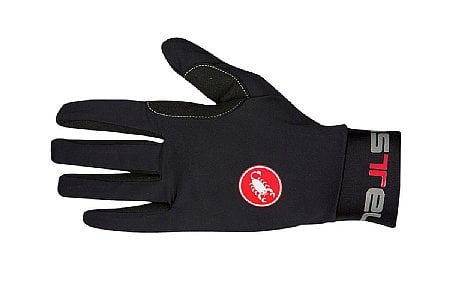 2 of 2 customers found this review helpful.
Good cool weather glove.
First, the fit. Castelli gear are notoriously small, and these are no exception. All my other gloves are small, and these are medium , and I could have gone with large. The wrist collar is so tight and inflexible that they are difficult to put on, harder to take off, and if you take them off mid-ride, nearly impossible to put back on.
But once on... Castelli says 55 F - 5. I think theyre fine down to 45, but any colder, no. In the 40s, be prepared to have cold fingers descending, and maybe if youre cruising at 20 or more, but other times you will be warm. I think they are versatile enough to go up toward 60, but theyll be warm. The good news there is that they wick moisture pretty well. The snug fit and material give you excellent feedback, and they are very grippy. Once they warm up on the ride, they do an excellent job on touch screens. They are better in wet weather than Castelli says, but not quite as warm as in dry.
Excellent gloves (but cmon Castelli, make stuff easier to get on and off!).
Thank you for your feedback.
Cycling Enthusiast
Seattle, WA
Love the glove but super tight fit
The gloves work great for my rides in the upper 40's. Don't think I would use them in anything colder than that. I like the feel of the gloves, they are comfortable and gave me a good grip and feel for my brakes. The only downside is the wrist is so tight that it's super difficult to take off. I ripped a seam slightly trying to take my gloves off at a cafe stop. I am a fairly lean and not at all a heavy set person. Gloves would be perfect if it weren't for the difficulty of removing them.
Thank you for your feedback.
Competitive Racer
Sacramento, Ca
1 of 1 customers found this review helpful.
Awesome gloves!
Picked up a pair of these while on sale, glad I did! Have been wearing them all through winter and they have not failed me yet. Temps have dropped into the high 30s and these gloves hold up! Comfortable, stylish and work better than expected.. No complaints.
Thank you for your feedback.
Competitive Racer
Los Angeles ,California
Cycling Enthusiast
Greater Vancouver, Canada
1 of 1 customers found this review helpful.
Perfect for cool but not cold riding
These gloves are great for autumn and spring riding when the temps are not low enough to require a winter glove, but not warm enough for bare hands. I use them on dry rides for temps 8-14 Celsius. They are nice option to something like the Defeet Wool Duraglove, which also fit in the same temperature range but IMO they stretch out and eventually tear too soon. The Castelli Lightness holds its shape better, but they are not the most durable either. I shredded the palm when I stupidly wiped a tire with the glove on. I'll knock off a star because I felt they should have survived that, but they are good enough that I bought a replacement pair.
Thank you for your feedback.
Cycling Enthusiast
Fruita, CO
My new favorite glove
I've used a variety of lightweight full-fingered gloves this winter. They tend to be warm but not breatheable, breathable but not warm, or warm but inhibiting dexterity. These do it all. They keep my hands warm down to 35 degrees (I don't want to ride in colder weather) and it's easy to manipulate my Garmin watch or my bike computer without having to remove a glove. I REALLY like these gloves.
Thank you for your feedback.
Cycling Enthusiast
Lexington KY
Great gloves for fall temperatures
This is a well designed pair of gloves that works well to keep cooler fall temperatures at bay. Ive used them in the high 40s, but anything cooler leaves your fingers a bit frosty. The grip is secure and its easy to brake and shift with them on.
Thank you for your feedback.
Cycling Enthusiast
Portland
Cycling Enthusiast
Lafayette, LA