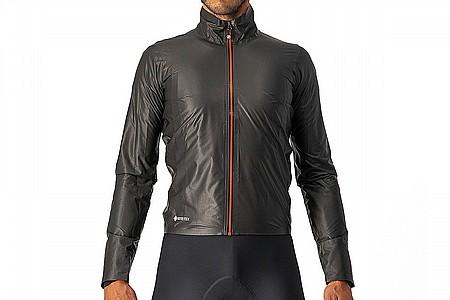 My first true rain jacket and I'm pretty pleased
I did a ton of research to find a light-weight rain jacket I could pack down tightly to be able to use in wet weather across all seasons. I'm kind of exited to try it out during a wetter ride at some point. I'm 5'8" and 155lbs and the Large was the right size. It fit snug in the torso but the arms were slightly longer than I would have liked. But that is probably better than being too short and leaving room for water to creep in. i did compare to the Assos Equipe RS Rain Jacket Targa and I felt like that one was thicker and would not pack down quite as well.
The ventilation / pocket access in the back is nice and helps to keep it from overheating. I did get to use it recently on a group ride where it only rained slightly and was in the low 60's I think. My bare arms underneath got a little sweaty but I think that's because it was directly against the material. I didn't get to hot in the torso. I've used some jackets that don't breathe at all and it's like your own personal sauna. But I think if I had been wearing a long sleeve base layer, I probably would have been just as comfortable without the sweaty arms. So I don't necessarily fault the jacket as much as the borderline warm weather while wearing a jacket. Looking forward to using it on a wetter ride at some point but I have no doubt it will work as expected.
As others point out in their reviews on other sites, I would love to have something other than a black jacket in the rain, but the particular material doesn't not allow for different colors at this time. I do have plenty of other lights, etc that should assist so I'm not completely invisible in the rain. But I'll take the other positive features it does have for now. I did get this on sale so it wasn't nearly as expensive as the full retail. But if you need good rain protection and ride a lot, this is definitely a good one to consider.
Thank you for your feedback.