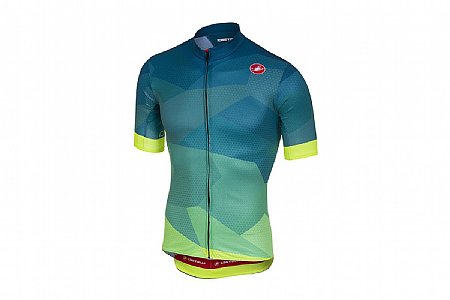 Cycling Enthusiast
Cambridge, MA
Love the fabric. Weird fit.
BTD shipped me two of these in different sizes and the medium was too small - which I expected from European kit - but the large was just weird... tight around the shoulders, loose around the middle. I didn't like the long tail and short front. Maybe if I were wearing bib shorts it would make more sense.
Thank you for your feedback.
Cycling Enthusiast
Santa Barbara, CA
Competitive Racer
New England
Club cut, not like picture
For years I've been able to buy Castelli jerseys in my size (large) and have them all fit the same. I loved them because they were close fitting, aerodynamic, attaractive, yet still very comfortable. Now I'm losing faith in their sizing philosophy. This is definitely not like their previous jerseys, lots of extra material from just below the nipples to the waist. It doesn't look like the picture, they must have the material tucked in the back to create the illusion of a form fit. If you're bigger around the middle and have found Castellis challenging in that regard this may work for you, but if you've loved the fit of all that have gone before I think you'll be disappointed here.
Thank you for your feedback.
Cycling Enthusiast
St Louis, MO
1 of 1 customers found this review helpful.
Excellent Jersey - followup, correction
Followup - was prepared to send back as per prior post, opted to pick up bib shorts - like the fit and styling with this jersey, decided to keep - do have to say I like the fit with bib shorts.
Thank you for your feedback.
Cycling Enthusiast
St Louis, MO
1 of 1 customers found this review helpful.
Great Jersey - but know what you want
This is a form fit jersey, great styling, great colors and print - excellent form fit for me in a large (I am 5'9, 168lb, medium build), but it is cut quite short, the front cuts just at the top of the shorts, the back tail is cut at about the level of a typical jersey, even a bit high at that. I have never worn bib shorts, but I think this style of jersey would work well with bib tights, or bib shorts - otherwise likely a bit of skin will show (and I am not svelt enough to sport it).
I like the jersey, just wish it was cut like a typical jersey for usual bike shorts, therefore returned it.
If you like bib tights or shorts, I think it would work. great. Really a great jersey and colors, graphics - wish it worked for me - almost made me take a shot at bib shorts just not quite ready to go there.
Thank you for your feedback.
Cycling Enthusiast
Pasadise
2 of 2 customers found this review helpful.
Nice fit!
Typical of Castelli, this jersey fits nicely. A couple differences in this jersey compared to other Castelli's I have, are longer sleeves (which I personally prefer) and the zipper has larger teeth. This make zipping and unzipping it with on hand very easy. The fine toothed zippers are less visible, but pull harder and I've never understood the purpose. Coarse zippers like this glide up and down and are much more functional for riding. The fabric is nice a light.
One oddity in fit, is the bottom cut on the rear is more like a tail and it doesn't cover a far down as most jerseys, but is it enough. But this is just a difference and I have no issue with it.
Thank you for your feedback.