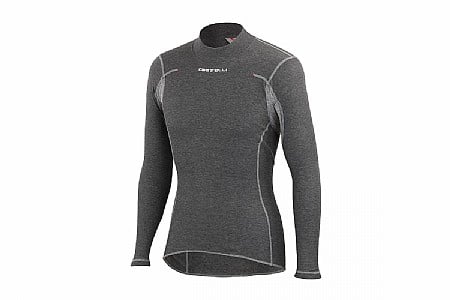 Cycling Enthusiast
Long Island, NY
Cycling Enthusiast
Spokane, WA
1 of 1 customers found this review helpful.
Well fitting, soft and comfortable. Follow the mfr instructions and don't put in the dryer like another reviewer did!
I'm 6'3" 195 lbs. 32" waist with a swimmer build, 44 chest. The base layer is a form fitting trim up, so no big bunches of fabric plus it is long enough to not be short to your waist. The XL fits me perfect, the sleeves nice and long plus the low cut mock turtle neck doesn't get in the way of tall collared jackets or jerseys.
Just right for a single layer under a long sleeve jersey in 50 degree F weather or add a midlayer vest as the temp drops.
Note, read the care instruction tags for your garment if you want it to last a long time,
DO NOT DRY IN THE DRIER! They will tell you to not put in the dryer. It dries really fast just hanging, I washed it at noon after a ride and it was dry by the next morning for another ride. I air dry all my cycle gear expect my socks.
Thank you for your feedback.
Cycling Enthusiast
Cleveland, OH
Great baselayer for colder temps!
This Castelli Flanders baselayer was great for cycling in the colder temperatures around here. I used this with a short sleeved jersey and and LG insulated jacket and was plenty warm down to 38 degrees, assuming the usual accessories for warmth. It's comfortable against the skin and isn't overly constrictive for fit, but definitely form fitting like most of the Castelli gear.
Thank you for your feedback.
0 of 1 customers found this review helpful.
Good but neck is too tight
This is comfortable for winter rides, once it is in place.
So far the shirt has not ripped, nor my ears been torn off,
but those seem possible every time it is put on or removed.
Size large shirt, 7 hat size. Maybe Italians have very small heads.
Thank you for your feedback.
Cycling Enthusiast
Sonoma County
Most comfortable base layer I have.
Incredibly comfortable under a cycling jacket, it serves its warming purpose without eventually producing the dampness that can lead to a chill at the end of rides. The ventilated underarms and sides work really well while being soft and comfortable.
Thank you for your feedback.