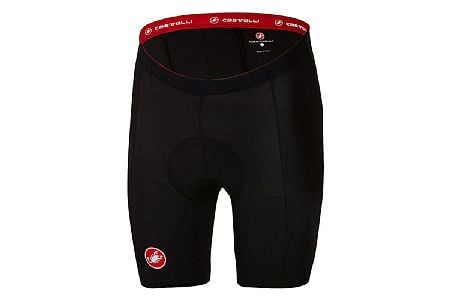 Cycling Enthusiast
Sonoma County CA
Cycling Enthusiast
Davis California
Good value in well-fitting shorts
I've had mine for about 6 months, probably usedwashed for about 50 rides. These are the favorites, always being the first out of the drawer. They fit very well with no wrinkles and I have no issues with comfort on even the longest rides. With Castelli, I go for one size larger than I use with Pearl. We wash them with cool water, but always line dry. So far the elasticity has held up like new.
Thank you for your feedback.
Been wearing CASTELLI FOREVER!!!
FIRST YOU MUST ORDER ONE SIZE LARGER THAN YOU THINK YOU NEED .... HAND WASH LINE DRY AND WILL LAST FOR YEARS ... I HAVE A PAIR FROM 5 YEARS AGO WITH SO MUCH USE STARTING TO LOOSE THE PATCHES BUT THE ELASTIC IS STRONG AND NOW I WEAR THEM ONLY FOR GYM USE...THE STITCHING IS STRONG - THE COMFORT EXCEPTIONAL ...
Thank you for your feedback.
Cycling Enthusiast
Bellingham, WA
A Disappointment for Castelli Shorts
I have bought Castelli bike shorts for a number of years and they have always been comfortable and capable of being worn on very long rides. These shorts are, however, a huge disappointment. I have finally figured out what is wrong with them. When the chamois was sewn into the fabric, the stitching starts and stops in a particularly bad spot for me. For about an inch on the front left side of the chamois, the seam is double-stitched (overlapped) and this makes it thicker. It is where, I assume, they were concerned about the stitching staying stitched so it wouldn't unravel. This lump is right where the left side of my pubic area contacts the saddle. It has been bothering me from day one. I thought with a few washings, perhaps it would get better, but it has not improved a bit. I will have to use these shorts for short rides around town or something. They certainly will not be any good for long rides (40-50 miles or more).
Thank you for your feedback.
Cycling Enthusiast
Brenham, TX
Comfortable, nice fit, but started coming apart in just one season
First pair of Castelli shorts. Really liked them. Even at the entry level pair I found them comfortable on the ride. Longest ride 2.5 hours and no issues. Rotated with a few other pairs of shorts, hand washed for most part. Problem silicone leg grip strip delaminated from the spandex as I put them on for a ride. Returned as was within the year warranty, received a credit. I like them, would like to have a Castelli, but likely need to pay up for a higher level unless they use the same leg grip system on those. Liked the shorts in terms of looks and fit when on the bike (where it counts), but need to have confidence they will hold up.
Thank you for your feedback.
Cycling Enthusiast
Virginia
0 of 1 customers found this review helpful.
Great Value
Castelli designs great cycling clothes period. Of course as a long time supplier to the professional peloton their high end stuff is pricey. But even their lower price clothes is better than most other brands. The Evolutione 2 short is a great example of quality ata good price, even better on sale. You could spend more for lesser quality tha these shorts.
. The
Castelli is my favorite cycling clothes designer and as a long time supplier to the professional peloton. I am no stone as a fan. Of course their intelligently designed high end stuff is pricey but even their lesser priced shorts like the Evolution
Thank you for your feedback.
Great Short
I am a Castelli fan for it's always great design and quality. These cycling shorts are in the same quality mold as Castelli's other cycling clothing. Castelli can be pricey so when their stuff is on sale I get it. And I always go up a size on their clothes.
Thank you for your feedback.
Cycling Enthusiast
Ft. Lauderdale, FL