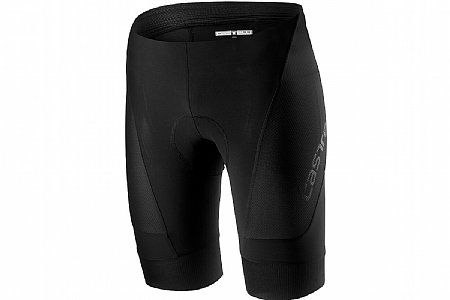 Daily Commuter
Fort Worth, TX
1 of 1 customers found this review helpful.
Expensive, but super high quality if you ride a lot
I ride 15-20k meters per day on a Concept2 BikeErg. I bought some everyday bike shorts at REI, but quickly began looking for something more serious to save my butt bone. I looked all over retail for Castelli (a less well known padded bike short a cycling fanatic friend of mine recommended). Just couldn't find them, or couldn't find them in my size at any of the high end bike stores here in Fort Worth. Quick internet search and they popped up on BikeTiresDirect. Comparable to store price, availability of sizes and quick delivery, super happy. I came back and bought another pair so I'm not doing wash every day!!! A short like this is a MUST HAVE if you are riding a lot. Amazing quality in the padding and all the seams, a real professional piece of equipment. Advice I would give is go UP a size when you order. I'm a 36 waist and find the XL manageable, but tight. For second pair ordered XXL. Perfect. If I get another pair it will be XXL. I'd put these up against the top of the line Pearl Izumi comparable product.
Thank you for your feedback.
Cycling Enthusiast
Atlanta, GA
1 of 1 customers found this review helpful.
Too tight, had to return them
I'm 6-0, 160, 32.5 waist. Ordered these in M size and they were simply too tight for comfort. I have other Castelli shorts (club kit) that I like so this isn't about the quality. I ordered some Assos shorts at the same time and decided to stick with them.
Thank you for your feedback.
Cycling Enthusiast
Knoxville, TN
finally a comfortable ride
I used these shorts on a long climb and several short rides thus far. The pudding is more than sufficient. the waist seems a bit tight at first, but it not a discomfort. the shorts fit well. i have both hand washed and machine washed. on both occasions I let them air dry, they dried overnight no problem - good for multi day riding. these are my first good brandexpensive shorts and I like them very much. Very comfortable overall. I like the cuffs, adhere well to the thighs but soft.
Thank you for your feedback.
Cycling Enthusiast
Salt Lake City
Cycling Enthusiast
Monterey, Ca
1 of 1 customers found this review helpful.
FAVORABLE REVIEW
I choice in bike shorts is a long inseam and supportive material. Although I was initially not fond of the mesh-lice frabric in the legs, it is holding up well after 50 plus rides and washing. I am careful not to dry in the dryer. I am happy with these shorts and other than the lighter material on the sides I would highly recommend.
Thank you for your feedback.
Castelli Endurance Shorts and Bibs are my summer favorite
I own both the shorts and bibs in the Endurance line and really like the fit and compression. The best thing about the Castelli Endurance line is they are perfect for hot temperatures as they breathe well. I ride and race in TX summers sometimes over 100 degrees.
Thank you for your feedback.
Great workmanship and placement of chamois
Just remember to the sizing is very small. I usually take a large in shorts, waist 35 inches or so and Castelli brand I need 3 X large. I�ve learned the hard way.
Last a long time and pad perfectly placed and compression all in right spots, with proper fitting that is.
Thank you for your feedback.
Cycling Enthusiast
Borrego Springs CA