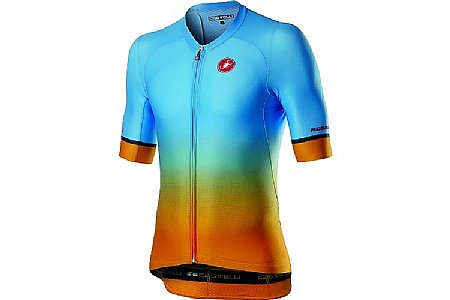 1 of 1 customers found this review helpful.
BEST Jersey....Ever!
I have been wearing jerseys for over 30 years and of all the jerseys provided or purchased, this is the most comfortable jersey I have ever worn. I opted for the Sunset color as it's bright and helps motorists see you. I'm 5'11" 154lbs and ran with the suggested size large. Perfecto! As in its description, it suggests the aero and speed benefit. Well, I can't go into detail there but I did snag a KOM on my maiden voyage....and a few others. Could be coincidence of course but who am I to argue! Even if it doesn't give you a KOM, it makes you feel fast and feeling fast is part of mind over matter and THAT matters! I admit, it was a bit pricey I thought, but I was able to catch a sale and after feeling the quality that was put into this garment, it was worth EVERY penny!
Thank you for your feedback.
Cycling Enthusiast
Central Virginia
Excellent aero jersey, overall good buy, with a couple issues
Here's some highlights/impressions for this jersey:
Pros: Snug, form-fitting, ample pockets, lightweight, snug sleeves to the elbow, cool summer garment
Cons: Zipper is difficult to get started (or I need a new prescription), the blue colored jersey is much darker than depicted on the web
Thank you for your feedback.
1 of 1 customers found this review helpful.
My favorite jerseys.
I bought one of these on clearance. I liked it well enough that I immediately bought another. I don't really need the aero for what I do, but the fabric is incredibly compliant and comfortable. With the perfect skin contact and the thin fabric, moisture management seems very good. I am not sure how durable they will be but I find myself picking these out of the drawer more often than my other jerseys.
There has been a problem in recent years of how to construct a tight, conforming jersey without wrinkles in the front, while not riding up in the back. I have several jerseys from other companies that don't do this well. Castelli's overhanging pockets solve this very nicely.
Thank you for your feedback.