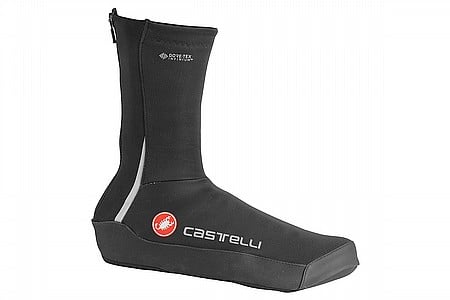 Cycling Enthusiast
Boston, MA
Nice shoe cover in the cold
This is my first serious shoe cover, in terms of cold protection I have tested down to about 30F and it has been great! I bought this type of cover specifically because I use mountain bike shoes (Specialized Recon 2.0, has quite a bit of tread). It takes a bit of effort to get the cover on, but it fits nicely over the shoes with plenty of room for the shoe tread and Shimano SPD. I am a little concerned that over time taking these covers on and off will start to wear them out, but so far they seem pretty sturdy with some light use this spring.
Thank you for your feedback.
Competitive Racer
Michigan
Great for shoulder season.
The gore-tex infinium fabric is very warm and somewhat water resistant for its weight/thickness and Castelli uses it well for these good-looking shoe covers. These are covers where you put them on first, then pull the front and back over your shoe. I've learned not to rush or avoid that or you risk ripping your shoe covers. I'd say these are great road and gravel covers for the shoulder season and a bit colder, but might be a bit delicate for abusive mtb and under-insulated for (Michigan) winter.
Thank you for your feedback.
Cycling Enthusiast
Walla Walla, WA
Warm and Dry Feet
Bought on Sale. Have worn a few times, temp down to 40F and max of 60F. Nice quality, feet are happy, the covers are not loose but they fit well on my size 43 shoes. Maybe I am even faster because the covers are more aero? One can only hope!
Thank you for your feedback.
Fit was a bit too big
This is easily 5 stars for me, but I wear an 11.5 shoe and found the 2XL recommended in the size chart too big on my lace up road shoes. I hope my mtb shoes will fill them out a bit more. I'm buying them again in XL, but in Black this time as that is the color they have left for me in my size. The Orange color booties I purchased the first time were nice as they matched my POC Omni Air Spin - Zinc White/ Orange AVIP color helmet. Oh well.
Thank you for your feedback.
2 of 2 customers found this review helpful.
Easy to put on, warm, quality materials
I got these to take the chill off my usually cold feet, and they do the trick. I don't use them in the rain, but they have been good in mist / wet roads. As for fit, I got the XLs to cover Fizik VENTO INFINITO KNIT CARBON 2 in 45.5 and they could be a little tighter for my tastes, but definitely no flapping. They go on easily, stay put, and are very orange on my moving feet, recommended.
Thank you for your feedback.
Cycling Enthusiast
Portland, OR
Cycling Enthusiast
Hilly East Tennessee
Fits like a glove! (if you size up)
Most shoe covers are either too thin or too bulky. These Intenso UL covers hit the right balance between protection, fit and comfort. The Gore-Tex Infimum fabric is the same as my riding vest and jacket and it really works to block out wind, snow and cold. One ride I was on recently was slushy and the covers got really wet and my feet got pretty cold after that. I should have put on my other thicker neoprene covers. Like everything else Castelli makes, the size is small so you should look at their size chart and get one size up.
Thank you for your feedback.
Cycling Enthusiast
Maine, USA
0 of 1 customers found this review helpful.
Good to have these
Got these covers to replace my well-worn Castelli Toe-Thingy covers which were not enough for the weather here in Maine. These are a big improvement in comfort... cold still gets in but a lot less and is now tolerable on 2 to 4 hour rides. These are very tight and probably need to be - I got the size "L" and they just fit with a lot of effort on my size 44 Fizik road shoes. Once they are fitted, it is clear that "L" is the right size, but it is a bit of a struggle at first. Overall, very happy with these covers. The eye-sore yellow color is a big addition to my being visible to distracted drivers too.
Thank you for your feedback.