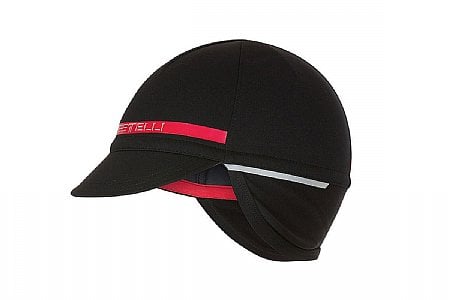 Cold weather cap
If you don't like the sun in your eyes or frozen ears this is a neat little cap. The earflap can be tucked under the cap to hide it, but if your head is about the size of mine 58-59cm you might find this a little too tight. Castelli make great gear. This cap is just what I had in mind and BTD had a nifty price on it. Thanks!
Thank you for your feedback.
1 of 1 customers found this review helpful.
Nice Cap
Wind was blowing...Snow coming down. Great conditions to road ride test with the new Castelli cap. Perfect....Kept my ears warm, brim kept some flurries outta my face. Cap is Windstopper, the ear flap is not. But it's thin enough that you can wear under your helmet, and the ear flap is thick enough that it works keeping your ears warm, plus you gotta be able to hear, right? It's a little pricey but Castelli stuff is usually top quality. If its brutal cold (Hello Minnesota) this thing may not be enough but for anything in the 10s to 30s it's my new favorite headwear.
Thank you for your feedback.
Perfect
So, I'm nearly bald. That makes keeping my head warm more of a challenge riding bicycle when the temps are in the 20's -30's.and the wind is gusting to 30mph. I've tried several options and I'm either too hot or too cold. The Castelli Difesa 2 Cap does have a down side, and that's it's size. It fits small at first. I remedied this by stretching the cap out quite aggressively without damaging it. This worked! It's now even comfortable with a thin skull cap underneath. As a reference, my normal hat size is 6-7/8, to 7. I'm glad I bought this cap. It makes all the difference.
Thank you for your feedback.
Cycling Enthusiast
Portland, OR
4 of 4 customers found this review helpful.
As advertised and then some
Love this, fits great not bulky and really does what it says it will do. Far warmer than expected and because it sheds rather than absorbs moisture, it stays warmer than even a wool cap. Wearing it on every ride this winter. Brim keeps its shape and yep, keeps at least some of the rain off glasses.
Thank you for your feedback.