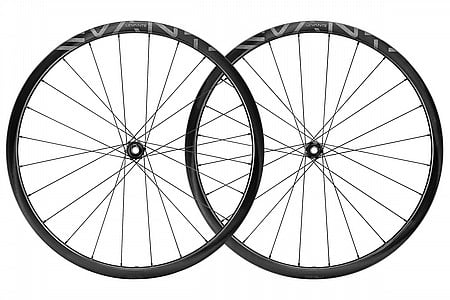 User submitted reviews
Review by Kinte

Smooth and Supple for 50/50 On Off Road

Running these w/Ekar 160 discs and 9-42 casette, with Schwalbe G-One Overland 40's. Excellent speed supple over varying terrain and very quiet regarding barely detectable ratchet sound and very little drag from the ratchet or the thin (but somewhat heavy compared with XTR) Ekar 160mm discs.

Thank you for your feedback.
Review by SF architect

0 of 1 customers found this review helpful.

Breaking Rules

I mean Campy isn�t really seen as a progressive brand, meeting the challenges of the evolutions in cycling. But�these wheels are awesome!

I bought them a couple weeks prior to a gravel race and, frankly, only got to ride them once before the big day. But they did not disappoint.

Supple and stable, quiet both in absorbing road/dirt road chatter and free hub silence.

If you don�t have a set of gravel wheels that are making you happy, these are on your list now. Or should be.

Thank you for your feedback.
Review by Ak architect

0 of 2 customers found this review helpful.

Awesome gravel wheels

Just got these wheels last week. First shakeout ride was Bovine Classic.

Such great wheels! Lots of washboard on this race felt very easy. Whole race was great and no issues with these wheels at all!

Super quiet. Surprising compared to my previous wheels.

Also super smooth. Don�t look a�ro but ride really fast

Thank you for your feedback.