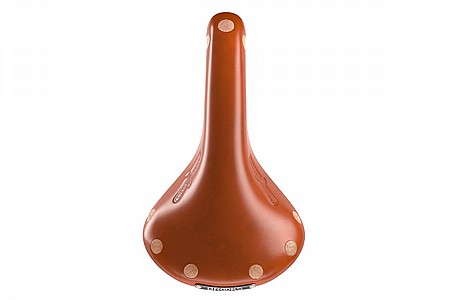 Cycling Enthusiast
Colorado
3 of 3 customers found this review helpful.
comfort that lasts forever!
I have over 28,000 miles on a Swift (the version with the titanium rails, which saves some grams) and will never part with it. I have moved it from bike to bike as I have upgraded over the years (now on a custom Seven frame). I give it a few minutes of leather care once per year, but that's all. I don't think it is possible to wear it out, and it always feels terrific, even on very long rides. I have put a second one on my indoor smart trainer bike to get that same comfort. You can't imagine what a truly good saddle can do for you until you experience it for yourself. Of all the things that can limit my performance and endurance, my bottom doesn't even make the list.
Thank you for your feedback.
My best fit on a road bike
I enjoyed Brooks saddles in the past but still tried to find something better. After returning to the Brooks Swift saddle I have come to the conclusion that it works the best for me. Saddles are a personal preference and the Swift is mine on a Randonneur bike.
Thank you for your feedback.
8 of 8 customers found this review helpful.
just right
Rather than dibby-dab with the Proofhide , I slapped about a table spoon's worth on the underside and pushed it around with a hair drier. Turned it a very dark brown (almost black). Beautiful, Lasted for at least a year with minimal dibby-dab. Was comfortable right from the git, have ridden a few metrics and the saddle never drew attention to itself. What I want.
Thank you for your feedback.
Cycling Enthusiast
Michigan UP
7 of 8 customers found this review helpful.
Fits me right
Pros Fit, Comfort (for drop bar use), and appearance.
Cons weight and extra care (if you dont plan on taking care of a leather Brooks, dont get one)
I am always trying to improve my riding, but I am not a racer! I ride a couple thousand miles a year and have been trying saddles, other then Brooks, for the past year and have come to the conclusion that it is worth the extra weight for the comfort I get with Brooks.
I put this saddle on my Endurance Roaf Bike and couldnt be happier. Brooks fit me right. I do have to condition the leather, but Im a bike geak that is constantly tinkering on my bikes and take pride in what I ride.
Thank you for your feedback.
Daily Commuter
Earth outside Chicago
5 of 5 customers found this review helpful.
YOU WON'T FIND BETTER
This company has been making Leather Saddles the same way, for 152 years and nothing has really changed New Models come in to play but that's it.....its a piece of Art...I opened the box ....applied Proofide to the bottom and edges let it dry and gave it a second coat edges also then a little on the top let it dry then worked it in a little ..buffed the top with a clean old white t shirt, and left the bottom and bottom edges as it is with 2 layers of proofide on there . mounted it on the bike with the rails parallel to the floor. then with my forearms I leaned on the seat applying medium downward pressure and just massaged and moved my forearms around back and forth the seats length and also rubbed the sides inward for maybe 45 minutes while watching some TV... I figured this might do the same thing to the Leather as putting a couple Hundred miles on it....Well doing that worked out Great... took it for a quick spin and it became a two and a half hour Legal Smile ride....I absolutely Love this Saddle ..its Perfect on my Old Cannondale mountain bike.... the saddle is narrower then some but not by much.. it is so perfect....I just want to Ride now when I look at the bike and I do if I'm not working...Brooks Saddles make people want to ride all they can ...I don't think another Saddle on the Planet does that.....also they get better looking and even more comfortable with age...as far as the concern of rain...if you have Proofide layers on the bottom and bottom edges I don't see how it could get drenched to be soaking wet....in the old days it never got brought up ...Hope this helps P.S. great price and fast shipping right here at Bike Tires Direct.... Thank You
Thank you for your feedback.
Cycling Enthusiast
Spokane, WA
37 of 37 customers found this review helpful.
Best saddle I've ever ridden.
I have had my Swift for about 7 years. I ride about 3,000 - 3,500 miles a year. It is simply the most comfortable saddle I've ridden. I was concerned and put off getting one because I had heard stories about how difficult it was to break in. However,I really didn't have a problem with break in. I recall that the seat felt pretty comfortable from the start and I guess that within 50 miles it fit me perfectly. In all the years I've been riding a Swift I have only adjusted it once. I do wax it (from the underside) at the beginning of each season. I plan on riding this saddle into heaven, where all cyclists have the wind at their back and newly paved roads.
Thank you for your feedback.
Cycling Enthusiast
Houston, Texas
4 of 4 customers found this review helpful.
Buy it
Very happy with my purchase. Was slightly stiff first 100 miles, not uncomfortable. Totally broken in by 250. My training rides are 40 miles, club rides 50 - 100. Absolutely no numbness in my crotch. Of course, check your height and angle of installation. I bought an extra tin of Proofide. Looks fantastic on my steel Bianchi Vigorelli. It weighs 14 of a pound more than my last saddle. I've lost 15 pounds since I bought it. I'm sure I ride a little more and train harder because of extra comfort.
Thank you for your feedback.
Cycling Enthusiast
Wisconsin
by
Sore Butt Dan - No More
Cycling Enthusiast
Idaho - Dry - Hilly - Rough Roads
11 of 11 customers found this review helpful.
Finally a seat that fits my rear-end.
The Brooks Swift Steel Saddle is a great saddle. It fits and feels comfortable on my rear-end. It does not rub on my thighs or sit bones. The leather is smooth and allows me to pedal properly without tugging and pulling on my skin like most other saddles. I highly recommend the Brooks Swift Saddle. ---- Daniel Staples Emmett, Idaho
Thank you for your feedback.
8 of 9 customers found this review helpful.
Brooks Swift Steel Saddle - Great!
I highly recommend this product - Brooks Swift Steel Leather Saddle. At first ride the saddle was a little still, but once you have ridden it numberous times it is very comfortable. I like the antique honey (brown) which matched my taupe color roadtour bike and the hammered copper rivets.
Thank you for your feedback.