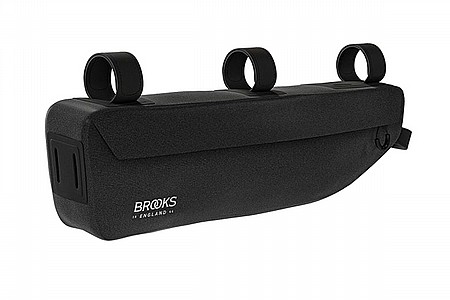 User submitted reviews
Review by Anonymous

Did the job

After about 3,500 miles with this bag last year (haven't used it all this season) have remorse buying it instead of something more substantial. It kept everything dry in terrential rain for Straps are very secure albeit they polished my matte frame from vibration where they sit.

As another review says, the zippers are just ok. They seem waterproof enough - if you can get them closed. The left Ziploc-style zipper hasn't worked for me since trying to jam a power bank in there. The right one is great but the flap can chafe your legs. I really like the use of a headphone port between the sides for cable management, but not big enough to fit anything but a small end through. Right-inner pocket is great extra protection for documents

Thank you for your feedback.
Review by Anonymous

1 of 1 customers found this review helpful.

This frame bag is great

This bag is quite waterproof. I like the cable hole in the front of the bag, which allows me to recharge a storage battery with clean cable routing from my dynamo USB charger. Definitely a well designed, well executed product.

Thank you for your feedback.