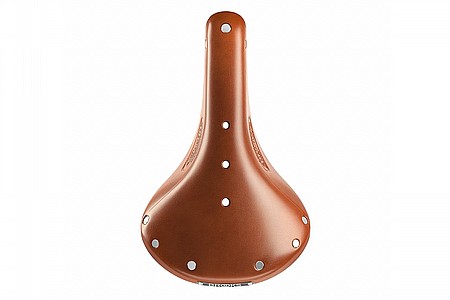 Cycling Enthusiast
Abilene, Texas
13 of 13 customers found this review helpful.
Wow!! What a ride.
I rode a long ride in May (1000 mi.) I had a conventional seat with the gel padding. Along the way I met a fellow rider and he said get a Brooks. I did not think anything would make my butt feel better. But, I did due diligence and decided to go ahead and buy one. I bought the Brooks Flyer. As advertised, there is a break-in period where ya just hate the thing. After about 2 or 3 hundred miles, riding mornings doing 20 milers, I realized that I was not thinking about the seat at all. While on the bike, you can feel the seat flex and move a little with your rocking motion. A little about me I'm 69, 170 lbs, I usually ride in running shorts (no padding). Best investment I have made for the bike.
Thank you for your feedback.
Cycling Enthusiast
Pottstown, PA
1 of 1 customers found this review helpful.
What's not to like?
Bought this saddle as part of a restoration/conversion of my 1974 Raleigh Gran Sport into an upright touring bike. I had a Brooks B17 Narrow on it when I was riding it in its original configuration with the drop bars, so it was an easy choice to pick the Brooks Flyer when I swapped the drop bars for the touring bars. Being more upright meant that the B17 Narrow was no longer comfortable and the Flyer was a PERFECT replacement - same great look on the bike, same saddle connections for my leather bag, and soooooooooo comfortable. I was worried how the springs were going to look and was considering just getting the B17, but I'm really glad I went with the Flyer - just enough suspension to smooth things out and with the bag attached the springs are largely hidden from view. I love the vintage look, comfort, and quality of the Flyer and even though it is perfectly comfortable right now when brand new, I know from my experience with the B17 Narrow that it will become even more comfortable after more use. If you have a vintage steel ride and are sitting upright, this Brooks Flyer is a great saddle that will look and feel great!
Thank you for your feedback.
1 of 1 customers found this review helpful.
Timeless Classic Quality
My first full sized bike in the 1960s (I am a dinosaur) had a Brooks Flyer Saddle, and every bike since until the 1990s when alternate synthetic saddles surfaced. I tried the one that came with my full suspension Gary Fisher Sugar 3+ for about 10 years, then decided to switch back to a Brooks Flyer when the saddle developed a rough spot after I took a digger. There was no comparison and no switching back. Even on a full suspension top of the line mountain bike, I could tell the difference. You can also buff damage off of leather, something you can't do on a synthetic saddle. I now regret using the other saddle for so long.
Lesson learned, I just put one on my new Trek Farley fat bike, and I actually read and still remember the simple directions that came with this new saddle. Brooks mentions a break in period, after which comfort improves. I have not noticed this. The Brooks Flyer Saddle improved my ride the day I put it on, and 1000 miles later, I can't tell the difference between new and broken in. Maybe you just can't improve the quality of a Brooks Flyer right out of the box. Maybe I truly am just a hard ass.
Thank you for your feedback.
Cycling Enthusiast
West Texas
3 of 3 customers found this review helpful.
GREAT SEAT
This saddle may not be for everybody. Takes some initial breaking in, but the time and effort was worth it for me. Just a little saddle soap to soften the leather, then after a few miles, comfort like never before. Bought one each for my son and daughter.
Thank you for your feedback.
Cycling Enthusiast
Seattle, USA
4 of 4 customers found this review helpful.
My first Brooks. So far so good. Easier to get used to than I expected. No miracles... yet.
I bought the saddle hoping to alleviate numb bits syndrome. I don't ride a ton (can I be both a cycling enthusiast and a casual cyclist?), but enough that I want to be comfortable. This is a big improvement on my previous saddles, and it's more comfortable than I thought. I'm a big guy (240) and this saddle seems to be giving a bit of sag in the middle. Might need to tighten it just a bit?
Thank you for your feedback.