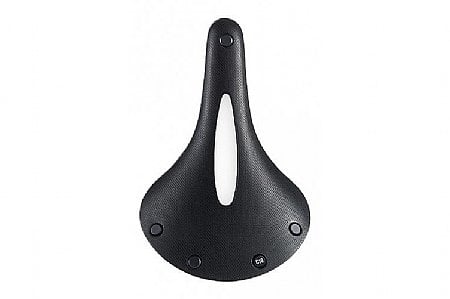 Good value
As a 6'5 220lbs Clydesdale, I appreciate the extra width of this saddle, and as a four-season commutertourer, I love that this model from Brooks can handle the elements without a cover. Is it as comfortable as a traditional leather saddle? For me, it's actually better, but only because the B17 wasn't quite wide enough. I do agree with those who say the rubber top does not offer the same molded support of broken-in leather, but it is still more comfortable than a modern, non-slung saddle. Overall, this is an excellent saddle, especially for the price. My only complaint is that I wish Brooks offered a model of this width with a little more length for us big guys.
Thank you for your feedback.
Daily Commuter
Houston, TX
2 of 2 customers found this review helpful.
Comfortable right out of box
Cambium seat is used on a Specialized single-speed for last 2 months. Seat (C19) is slightly wider than C17 and very comfortable. Seat has good flex and the cut-out does its job. I have a Brooks B17 on a road bike which took approx. 400 hundred miles to break in, this seat has a similar feel out of the box. I like that the Cambium seat can get wet.
Thank you for your feedback.
1 of 1 customers found this review helpful.
Comfortable, feels like a sprung saddel
No fuss ready right out of the box, zero, and super comfy. Just what you would expect from a Brooks saddel except without having to oil your saddel. Definitely recommend this for anyone touring or with an urban commute.
Thank you for your feedback.
3 of 3 customers found this review helpful.
Brooks quality without leather maintenance
Well constructed Brooks quality saddle. No break-in period or periodic maintenance required. Comfortable right out of the box. Seems to be very durable. I have ridden a few saddles with carved or indented center slots and have found them to be beneficial. Finally, I really like the fact that water will not damage this saddle which makes it quite suitable for multiple day tour rides.
Thank you for your feedback.
1 of 1 customers found this review helpful.
Good touring saddle!
Im a long time B17 and B67 user I love them, but the leather is not ideal for wet conditions. So I got an All Weather carved C19 for my touring bike.
It works! While it does not have that leather saddle feel of the leather, I have noticed is not that it feels so good to sit on (although it feels fine)rather, I feel good, without pain when I am done. (Ive done several 80 mile rides on it). Im happy, and picky enough to not put up with or say otherwise when I dont like things.
I tried my friends C17it did not work for me, but the wider C19 works for my upright posture.
Thank you for your feedback.
Cycling Enthusiast
SW Missouri
1 of 1 customers found this review helpful.
It does what it was designed to do, but it's not for me.
Any complaints I have against this item is more a reflection on me than the product. The product description explicitly states that the saddle is designed for an upright riding position. My riding positions are all over the place. I go from upright to aerobars and back. In doing so, the seat cover grabs your shorts and makes sliding impossible. This is not a seat you would want to use on a racing bike. If you are locked into an upright position, this could be the seat for you. Brooks have been making bicycle saddles for a long time. There is no questioning the quality of the construction. It comes in various widths, up to 19 mm, wide enough to accommodate the widest tracked posterior. I am keeping the seat. Im thinking of buying a bike to fit the seat.
Used for the purpose for which it was designed, my ratings would undoubtedly have been higher.
Thank you for your feedback.
1 of 1 customers found this review helpful.
Brooks C19 Good for relaxed ridine
So I have used the C17 brooks for several years, so i deciede to try the wider one for bike packing. Its comfortable if you like a more upright position and you have a relaxed frame
Thank you for your feedback.