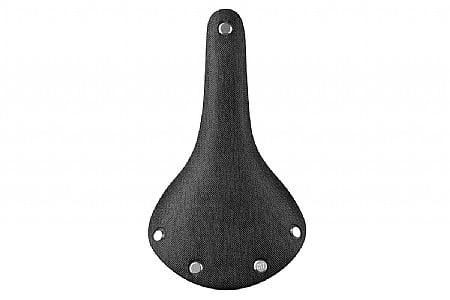 Casual Cyclist
Philadelphia, PA
Broken-in comfort out the box!
They say upgrading your touch points is always a good investment when it comes to your bike and that rings particularly true with this saddle! The Brooks C17 Cambium has that broken-in comfort you'd get from a leather saddle straight out of the box but with the plus of this vulcanized rubber and cotton covered saddle being more weather durable. Slim enough to be sporty whilst also being wide enough for comfort. You can't go wrong with this saddle unless your game is reducing the weight of your bike.
Thank you for your feedback.
Great saddle from day one.
I used to use Brooks Leather saddles when I was much younger and loved how they fit and felt after the sometimes agonizing break-in period. This Cambium C17 had no break-in period at all. It felt great from the first ride.
Thank you for your feedback.
Cycling Enthusiast
Ontario, Canada
7 of 13 customers found this review helpful.
Very well made, but not as comfortable as a B17
I'll start by saying that this a very well crafted saddle. Maybe the best I've ever seen. I have several, well-ridden B17 saddles, but as we all know, these require breaking in, some maintenance, and must be protected from rain. I love my B17 saddles, and had great hopes for the C17 Cambium. The surface has just the right amount of friction to keep your butt where you put it.
Most modern saddles have some sort of soft area in the middle, where the shell is cut away, or otherwise relieved to prevent dreaded numb crotch. There is no obvious relief in this area on the C17, but in 400 km of riding, I had no numb crotch, so the plastic shell might be thinned in the middle, but I couldn't tell by looking.
The bad news was that during my 400 km tour, I developed a nasty saddle sore - something that has never happened with a B17. So, while the saddle required no break-in, my butt definitely did. I've never had this experience with a B17. I really wanted to love this saddle. However, I believe it's a mistake to do what I did put this saddle on a bike and start riding on a long trip.
So I give the saddle 4 stars for its design, looks and construction. Just don't expect it to feel like your favorite leather Brooks right out of the box.
Thank you for your feedback.
Cycling Enthusiast
Olathe, KS
2 of 3 customers found this review helpful.
Unique look and out-of-the-box immediately comfortable
This is my first Brooks. Bought it for my Kona Rove steel gravel bike. The saddle has a definitely unique style, with the natural cotton seating surface. The Cambium's flexible construction means it needs no break in at all, it's just unbelievably comfortable from the moment you mount it. Now they've got me thinking about a C15 version for my road bike
Thank you for your feedback.
Cycling Enthusiast
Bay Area
Cycling Enthusiast
Walla Walla, WA
2 of 4 customers found this review helpful.
Niiice!
This is definitely not an inexpensive saddle (at least on my budget), but it is certainly a good one. Saddle preference is very personal thing, so I can't speak for everyone, but for me this is a winner. As I understand it, the geometry is very similar to that of the B17, so if you know that that saddle works for you, this one would be a safe bet. Unlike the B17, you don't have to worry about this saddle getting wet when it rains or stiff when it's cold. You also don't have to sit through a long break-in period for the saddle to get used to your butt. For me, this saddle is worth the money (especially if you can get a deal on it).
Thank you for your feedback.
0 of 1 customers found this review helpful.
Great saddle
Ive always been a fan of Brooks b17 saddles. So I decided to try the c17 because its no maintenance saddle and I couldnt be happier. Ill always love my b17s, but for my commuting bike, the c17 was a great choice.
Thank you for your feedback.
Cycling Enthusiast
Midwest
Cycling Enthusiast
Seattle, WA
3 of 7 customers found this review helpful.
Most comfortable saddle, but has a rough covering.
The Cambium saddle is the most comfortable saddle I have tried and I have tried a lot. Unfortunately, I developed a saddle sore on longer rides (100 mi). I use it for shorter training rides.
Thank you for your feedback.
Casual Cyclist
Southwest Virginia
Cycling Enthusiast
detroit, mi
1 of 1 customers found this review helpful.
as good as leather without the break-in
I received the brooks cambium saddle and placed it on my exercise bicycle. I was wonderfully surprised by how comfortable it was on the first ride. I have a brooks b-17 saddle that took several rides over 100 miles total to soften up the saddle. Wow .. what a difference. i also like that i do not have to worry about rain and sun light damaging the saddle as well. Awesome product out of the box.
Thank you for your feedback.
Competitive Racer
Syracuse, NY
The best non-lightweight saddle
I'm really pleased with this saddle, so much so that I have it on 3 bikes. I don't put it on my light race bike because it is a bit more substantial but for gravel and cyclocross I am happy with it. It flexes quite a bit and because of that, if you spin at really high cadences (over 105rpm) you'll notice some bounce but the benefit is that on gravel, dirt, cx courses, it serves to add some absorption so you actually stay in better contact with your bike. I have wide sit bones and the width of the c17 is perfect. Probably the only saddle I'd want to be on for rides over 3 hours.
Thank you for your feedback.