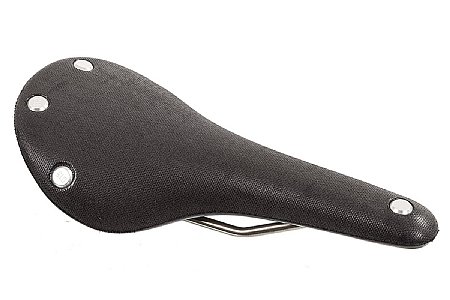 Cycling Enthusiast
Louisville, KY
No more worries about the saddle in the rain.
The saddle is comfortable. It eliminates the need to carry a cover in case it rains. And we have had a lot of rain this year. Materials appear to be solid. Have not had much chance to put on a lot of miles but so far it is a good saddle.
Thank you for your feedback.
Cycling Enthusiast
Little Rock
2 of 2 customers found this review helpful.
Perfect saddle
This saddle is the ultimate in comfort and durability. Had the carved version for my gravel bike and rode it to a DK200 finish in comfort. Decided to try the standard version on my road bike and so glad I did. Perfect fit right from the start and will last forever. Going forward I will ride no other saddle.
Thank you for your feedback.
Best seat ever according to me!
All of my bikes but one, now have this seat. I ran an Avocet Air 40R for years and a Brooks B-17 special for a bit. This is by far the most comfortable seat I have ever owned. A perfect fit for my skinny butt!
Thank you for your feedback.
Cycling Enthusiast
Portland, OR
4 of 4 customers found this review helpful.
Great saddle, but finicky about adjustment
This is a fantastic saddle, with some reservations. I'm 150lbs and have fairly narrow sit-bones. I like to ride in the drops, and this saddle lends itself to that, and generally to tilting the pelvis forward. I can't say that it's the most comfortable thing possible because I haven't tried the leather equivalents, but it has gotten me through 200 miles in one day. Be extremely thorough and persistent about how you adjust the saddle. Seat height, setback, and tilt have to be perfectly dialed in to avoid discomfort. Once you're sorted, you won't notice the saddle, but since it is a hard saddle with no cutout, you WILL notice pretty quickly if things are off. Get it right and you can ride 100 miles without chamois butter. Build quality of the saddle is top-notch, and it ought to last you longer than your bike.
Thank you for your feedback.
Cycling Enthusiast
Ashburn, VA
2 of 2 customers found this review helpful.
Modern Brooks, all the good with no maintenance
I needed a new saddle after ruining my Brooks Swift on a 4 hour ride in the rain. I tried a Fizik Arione based on their suggested fit guide and it just didn't work for me. Don't get me wrong, the Arione nice, well made product but I felt it had too much padding. After two rides and 100 miles, I was experiencing way too much discomfort. After a brief look again at the Brooks options the C15 was my next choice. Just like they advertise it was comfort on the first ride! I am probably biased because I prefer little to no padding on my saddles and after many years on the Swift this was a perfect fit. Its not a light saddle (better than the Swift), but I'm not a weight-weenie and prefer comfort over the incremental weight increase. If you are looking for a maintenance free Brooks option, this is it! Either the C15 or C17 (wider profile) are great choices for an upgrade from leather or for those looking to get started with a Brooks saddle.
Thank you for your feedback.