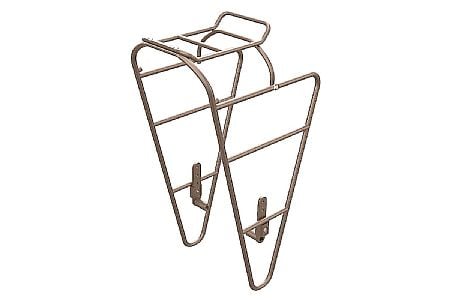 Cycling Enthusiast
Sonoma county, CA
7 of 7 customers found this review helpful.
I Crashed Into Everything
Bought this rack for a coast to coast tour, held up like a champ! I ran into a stile in Wisconsin, then a power pole in Green Bay, Then my sister in New Hampshire ( that one was the least violent of all the crashes). Super rugged, the lower eyelet mount got a little bent but the rest of the frame stayed true. Very solid, my bags didn't rattle much at all and I had them loaded to the gills. I had a gallon can of stove fuel in the front for the entire trip. Also happened to be in the bag that took all the impacts. Yes, I am a genius. Highly recommend this rack.
Thank you for your feedback.
Cycling Enthusiast
Oakland, CA
5 of 5 customers found this review helpful.
Awesome rack, can be mounted in variety of ways
Great rack, that unlike most front options can mount to just about any bike. I only have eyelets on the end of my fork, so this was key. It isn't very light, but for touring and grocery-getting this isn't a priority. I haven't tried to take off the top portion yet, though the option to is nice.
Highly recommend for anyone looking to carry more than your rear rack can already handle.
Thank you for your feedback.
Cycling Enthusiast
Lambertville, NJ
5 of 6 customers found this review helpful.
Nice rack... but...
When it arrived, it was in pieces... apparently came apart during shipping... Can't say for sure whether it was poorly packed, the carrier was careless, whether a design flaw (or perhaps a little bit of all these things). The rack is fastened together at the top. It took some strength and patience to get it reconnected, and the connection joint doesn't seem very precise (to me suggesting the manufacturing may be a bit shoddy). Design-wise it's a really COOL rack, and I am hopeful it will stand up to a decent amount of abuse... but it makes me wonder... and will keep and eye on it.. I'll have to post another review after a few months' worth of use.
Thank you for your feedback.