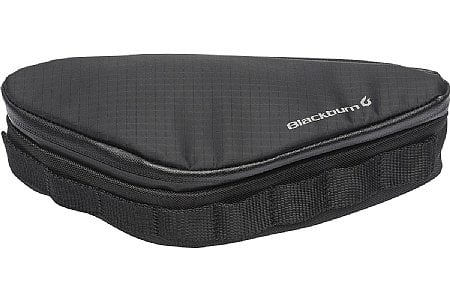 User submitted reviews
Review by Anonymous

Cycling Enthusiast

southwest

needs better velcro straps

It has three shorter straps and three longer straps, and none fit my bike. There needs to be more strap overlap or longer "loop" sections (of the hook and loop). So I am going to find better velcro straps. Also would be better if the narrower section was a touch narrower, as is is a little tight on both my bike (Trek Fuel EX and Revel Rascal, both Larges). Overall looks like good construction. I might put on top of the top tube, next to the seat tube also as it seems like it could work there, even if the angle is not 90 deg. Size is good for fitting a fair amount of stuff: tube, tool, tire lever, CO2, mini pump, chain section all fit in there fine.

Thank you for your feedback.
Review by Anonymous

1 of 1 customers found this review helpful.

It is adequate

I bought this to hold my riding gloves, mobile phone, etc. This bag holds it all but I wish it fit the frame of my bike better. As it is now, it moves around quite a bit as I ride along. I would not buy this for my Cannondale Top Stone again.

Thank you for your feedback.