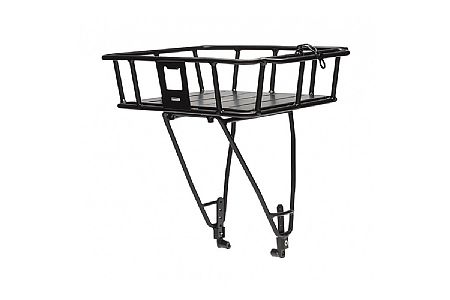 Cycling Enthusiast
Gresham, OR
Very nice rack, factory parts for installation are a joke
I give this rack a 4-star because it is a very nice rack, heavy duty and well made. However, the installation will not be easy for some.
The dropout attachments for the rack are designed and made well enough, but the parts to attach to the upper section of the fork to balance the rack are very poorly thought out. Blackburn supplies some bars and clamps that are clumsy and heavy, and in many cases may not work at all, as was my case. Luckily I'm an engineer and skilled fabricator and busted out a simple bracket to clamp the rack to the center fender/caliper bolt hole on the fork - This took me about an hour of thought and fab work. Unfortunately my solution won't work for a bike with front shocks.
For anyone interested in how I solved the problem, and without getting overly complex...
I used 2 pieces of 2x2" aluminum angle (.125 wall) cut approx 1.5-2" long. One of the angles gets one hole in the center of one leg, for the caliper hole in top of the fork. The angle reaches up and out to the bottom edge of the rack. The hole placement is dependent on how the rack is positioned. I had to use a bold that was 10mm longer than the stock caliper bolt to make this work. I used the second angle to fab a clamp which bolts through the first angle to aggressively hold on to the rack. For a simpler solution, you could simply drill a few 3/16" holes in the first angle and use zip-ties to connect the rack to the angle. Anyway, this approach was 1000% better than the factory parts and weighed about .5lbs less.
Thank you for your feedback.
3 of 4 customers found this review helpful.
Spacious rack with multiple installation options
I use this as a front rack for errands and grocery shopping. It will easily hold two grocery bags. Installation was pretty easy. I used the dropout braze-ons and fork blades for attachment and am experiencing no rattling. You'll want to mount the upper struts in away that isn't touching the rack or you'll get buzzingknocking. Some handlebar tape can mitigate it if it's unavoidable.
The u-lock holder is handy, but my lock still bangsrattles over pavement if I only use the included strap. I added a straphook at the U to secure it under the rack and now it's silent.
Blackburn should make an accompanying bag for this rack. It's an odd size so I've been shopping around for something that will maximize it's utility.
Thank you for your feedback.
1 of 2 customers found this review helpful.
Better installation photos, esp. for front is needed
Instead of carrying heavy groceries and hang some on the handle, this basket made it much pleasant.
I do love and got the basket installed on front of the bike by a local bike shp. The installation instrn was
inadequate for me, thus the bike shop. The shop man had to figure it out.
The slats are too wide, groceries would fall out. i had to find a plastic container to just fit inside the basket and found one for $9 at Home Despot, tied it to the grill w stainless steel wires.
I can now put 1 gal milk and 12gal OJ along with heavy strands of bananas. But, tragedy happened.
As i was loading them, the front whl suddenly turned and brought the entire bike on the ground. the fall
damaged my skewer (needed a long one) and damaged my brakes. Sorry i cannot attach photos so it'll
help u to install it urself. It's still in the shop to fix the damage.
I request this seller to find some device to prevent this front whl twisting or front whl kick stand in your
product line. And to relay my review to the manufacturer of the basket.
And, the instruction was not good enough to mount on the front. Two horizontal rods have no connectors
to screw onto the bike's front struts, etc. They also need to do detailed photosdrawings esp. for the front
installation.
Not many complains in detail as i do so i wish u'd appreciate my time and thought for this feedbk.
Thank you for your feedback.
3 of 3 customers found this review helpful.
A nice, sturdy rack that might be a little heavy for some
I use the rack for commuting to work.
Pros the rack seems pretty sturdy and well-built. I think it looks pretty cool too.
Cons kinda heavy, I didn't like the upper mounting hardware cuz it was squeaky. I came up with a different mounting strategy.
Thank you for your feedback.
Daily Commuter
Las Vegas, NV
Multi adjustable
I have one on both ends of my commuter bike. Had to mount the support bars to the brake bosses, v-brake. The mounting points, the allen bolts seem to come loose more than normal. I hate rattling noises, so we will see if they finally seat in and become less of a problem. They can hold a lot of whatever you put in them, and they come with a nice bungee net. Good mounting points for lights. I wish they were metric instead of standard thread.
Thank you for your feedback.
Cycling Enthusiast
San Francisco Bay Area
Cycling Enthusiast
New Jersey
Install can be tricky and it's heavy, but solid
I installed this using separate rack holes available in the frame of my disk-brake gravel bike. My biggest issue is the provided "M5" screws were way too long for the side of the bike with gears - the end of the screw stuck out so much that my chain would have smacked it in a high gear. I was able to get the basket installed using a spare screw (my coffee can full of random screws rarely fails me) but ideally they should have included multiple sizes. Also the directions are pretty difficult to interpret - a few more pictures would have been nice if you're not a professional bike shop. Once installed I could definitely feel the extra weight of this basket, but it was still a lot more comfortable that having a backpack on my shoulders while riding.
Thank you for your feedback.