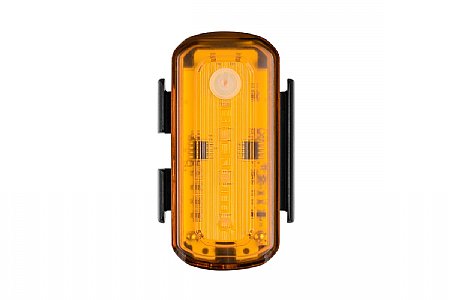 Cycling Enthusiast
North of Chicago
Good for being seen, like a longer battery life
Great for being seen. Needs to be charged before every night ride because It loses battery life when not being used. I found roughly 2-4 hours of life on strobe compared to 6 hour claim. My other Blackburn products have significantly longer battery life than advertised.
Thank you for your feedback.
Cycling Enthusiast
Florida
4 of 4 customers found this review helpful.
Makes you visible
I ride with these every day. I do not do night riding. These lights work well and last for at least 4 hours. They really increase visibility. For those who ride on streets and bike lanes anything that increases visibility is good. When you ride in shadows or on cloudy days they really increase visibility. I am sure they would be essential if you ride after dark.
Thank you for your feedback.
1 of 1 customers found this review helpful.
Amber lights
Amber bike lights seem to be rare, yet for riding with cars on pavement in daytime, i.e. to be seen rather than to see (at night). These (2 in set) are intended as side lights, but I repurposed each as a forward facing flashing light. They are bright enough to be seen from a distance, & IMO they help prevent the most common motorist-caused crashes with bicycles: pulling out in front of, and left-turning across. I also run a daytime flashing red taillight.
4 stars because they only last 2-3 hrs flashing, on one charge.
Thank you for your feedback.
Daily Commuter
Sacramento, CA
1 of 1 customers found this review helpful.
Work great for early morning and nighttime commutes.
So far these have worked great. My commute is app. 45 minutes and I have been charging them app. once a week since the days have gotten shorter. Would estimate about 3 hours total running time on flashing mode. They are bright and I have not had any cars pull out in front of me on side streets since using them. Little concerned about the longevity of the elastic bands used to secure them to my bike frame. That's about the only thing that I would consider redesigning with these. They have addressed a longtime concern of mine to be visible from the side while riding at night.
Thank you for your feedback.
1 of 1 customers found this review helpful.
You SHOULD Get SIDE BEACON LIGHT
Just enough distracted drivers out there for your entire lifetime.TWICE since I've used Beacon Light careless drivers overran the Stop sign by 20-30 feet, stopping before I was injured. Basically essential.
Thank you for your feedback.
Daily Commuter
Philadelphia, PA