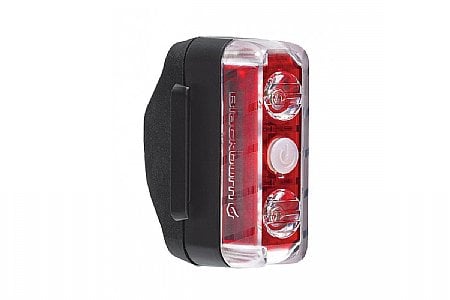 Cycling Enthusiast
Roanoke VA
1 of 1 customers found this review helpful.
Very Bright, Easy to Operate, A slight Hassle to Charge
This rear light has two very bright red LEDs, top and bottom. These hi-intensity LEDs have a wide dispersion range so they can easily be seen well off-angle. The LEDs operate together, they can be on solid, or blink about once per second. They have two different intensities: bright and very bright. I run bright / blinking which is plenty bright for daytime or nighttime and can last 4 hours+. Very bright is objectionable, almost blinding to people behind me when I ride in a group, and Very Bright runs the battery down 2x faster than the lower setting. There is a small hassle when it comes to charging via USB cable. You have to remove the light entirely from the bike! Then you have to remove the rubber weather seal / rubber interface to the bike frame - from the back of the light. Once this weird rubber interface is removed (careful, don't lose it!) you then remove the small protective rubber cover from the USB port - then you can finally plug in the charger cord. With my other model Blackburn light, I can leave it mounted on the bike, and just plug in the USB cable. So subtract 1 star for slight charging hassle which gives a 4 star rating.
Thank you for your feedback.
Casual Cyclist
Portland, OR
Daily Commuter
Houston, Texas
Cycling Enthusiast
Raymond,MN
1 of 1 customers found this review helpful.
Excellent quality for the low price!
I needed a taillight bright enough to be seen during the day in this rural farm area I ride my bicycle. We've just started harvest season and the traffic is heavy with out of state truck drivers hauling crops.
Thank you for your feedback.