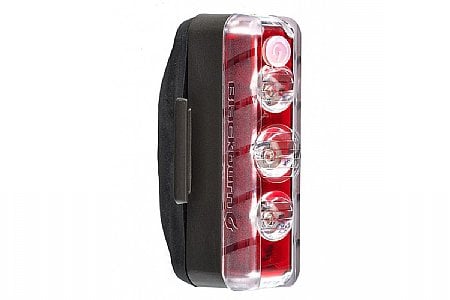 Cycling Enthusiast
Santa Cruz, CA
9 of 9 customers found this review helpful.
Bright, wide angle, versatile mounting
I bought this to replace a failed Lezyne Strip Drive Pro that failed. While I own a lot of Lezyne stuff, their engineering can be a little sub-par. The old light used to come apart when charging due to a poor tab design on the inner cover that did not hold. The Dayblazer was a similar light, looked better made and was cheaper so I gave it a shot. I made the right choice.
The construction is first rate. Fit and finish are exceptional, with screws and gaskets to hold it together and seal it against the elements and good optical materials and design. The soft vee can mount on any bike from my deep aero seat tube to a round seat post, to my seat stay, and the metal clip underneath the Vee can go on bag or a back pack. Basically, it should work for nearly everyone.
The light is very bright, probably excessive for night use, even on the low settings, but certainly attention grabbing even in bright sunlight. The usable angle is large enough vertically that it will be adequate on any angle of seat tube or stay. It is still bright well past 90 degrees, horizontally so you have excellent side visibility.
The battery life is short for long rides except on the lowest setting, (6hrs), but it is so bright that I don't really plan to use any other than that setting anyway.
There are 2 minor complaints
1) The button is a little hard to push. It seems a bit recessed and sometimes takes me several tries.
2) The elastic straps are basically just O-rings. If the light was to be left on the bike, this would not be an issue, but since the battery life is relatively short, and the unit must be removed to charge, a little more time should probably be spent to make it easy to install and remove. Luckily, the Lezyne light's strap fit perfectly and solves the problem for me.
Although similar to the Lezyne, it appears to be a far better made, brighter, better side visibility, and it's cheaper too. Highly recommended.
Thank you for your feedback.
Cycling Enthusiast
Naples FL
Bright but not great
Light is very bright and has a decent bur time. It would be really good if it had a decent push button switch.
The push button works sometimes ,more often than not however it does not. You have to keep pushing it many times before it activates the light . If it had a better switch it would be a four star light.
Thank you for your feedback.
Cycling Enthusiast
Oakland, CA
1 of 1 customers found this review helpful.
All around best tail light
If your goal is visibility, then this is the light for you. There are several options of flash/strobe/steady at different brightnesses, and I always ride with the brightest strobe, as I'm on fairly lightly trafficked windy, heavily forested roads, and it's easy to miss a cyclist in the distance. With this light, I always feel safe - in fact I've bought one for each member of the family.
Integrated rechargeable battery is a huge plus, as you just plug it into a USB charger and it's good to go, with no batteries to replace. At the brightest setting it lasts about 6 hours. Easy to clip on a seat pack, or attach to the seat post or chain stay with the clip and several rubber O rings provided.
A word about customer service - I had one of these just give up after a few months, as it no longer would hold a charge. I called Blackburn and they sent me a replacement right away. Very impressive when a company stands by their product, and does the right thing by the customer. No problems before or since- it must have been a bum unit.
Thank you for your feedback.
Daily Commuter
Milwaukee, WI
2 of 2 customers found this review helpful.
Easy to see, not blinding to those behind me
I bought 2 of these for my commute. One clips to the rear pack, the other straps to the back of my helmet with the included O-ring through the lowest vents. So far no hits, no near misses, so I think the lights are doing the one thing I bought them for.
Thank you for your feedback.
Light it up!
If you want to be seen this is a good tail light. I feel naked if I forget it. Ride with it flashing in the daytime and gives me some security to think I'm more visible to motorists. Charge is great and goes for hours. Easy to turn on off and to install. Really like this light.
Thank you for your feedback.
4 of 4 customers found this review helpful.
Great but with some flaws.
Bright light, great visibility from far, multiple lighting pattern options and ways to mount the light. These are some of the best features, and far better than many of the other products out on the market.
Drawbacks are the difficult to press onoff button (very hard), the mandatory partial disassembly in order to get to charging port (not that big of a deal - just dont lose a piece) and the O Ring secure feature. The O Ring could be a positive and negative depending on how you view it. They give you a couple different sizes for different mounting locations. The negative is you are constantly taking on and off for charging or traveling and I worry about losing or breaking the particular one I need, and if I do, do I have the others with in order to mount in another less ideal location.
Overall - still a great light
Thank you for your feedback.
Cycling Enthusiast
South Texas
3 of 3 customers found this review helpful.
Super Excellent Light for Aero Seat Posts
Awesome light that I bought for the aero seat post on my Allez sprint. Immediately noticed cars getting further away from me when they passed me from the rear. A retina burner, love it!!!
Thank you for your feedback.
Cycling Enthusiast
Raymond,MN
Excellent quality for the low price!
This is the greatest daytime or dusk rear light I've ever had in my life. I upgraded from the taillights I've had for over 10 years. They were fine for almost dark riding but this flame can be seen during bright sunlight. Indeed it is a Dayblazer. It's got my back during harvest traffic out here in rural farm country.
Thank you for your feedback.
Cycling Enthusiast
Vancouver, WA
Bright Light!!!!
I bought this light yesterday and it is fantastic. It is super brought easily charged and is very BRIGHT!!! It was recommended to me by a friend and it worth the extra money. I am not sure about the easy mount yet with black rubber cords in different sizes to fit anywhere on your bike but time will tell. I do recommend this light!
Thank you for your feedback.
Great light. Bright & rechargeable
I researched many blinkie lights before settling on this one. It has everything I want - multiple settings including an uneven high bright flash, rechargeable, and easy to use and mount. In fact, I bought a second one for my teenager.
I previously have had Planet Bike lights, but found them not quite bright enough. Plus one flew off my bike when I hit a pothole!
Thank you for your feedback.
Cycling Enthusiast
Oakland, CA
Brightest blinkie out there
I bought this to replace a Planet Bike blinkie that i lost on a recent bumpy ride. I keep the light clipped to the back of my under-seat pack, my only real concern is being highly visible to motorists.
I was completely happy with the old one, but in looking at replacements, i read that this one is brighter, and it sure is. I use the brightest flashing mode, and it's so bright that i can't look at it when i'm holding it! Seems very well built, clip is solid, being rechargeable is a must-have feature. Several settings, which is nice. Button could be a little easier to use, but thaty's not really a serious minus. I rated its value 5 star, even though it is a little pricey. For the sturdiness, brightness, and rechargeability, it is a great value.
I would strongly recommend this if you're looking to be as visible as possible.
Thank you for your feedback.
Daily Commuter
Portland, OR
Cycling Enthusiast
Tigard, OR
1 of 1 customers found this review helpful.
Super bright Light
This is the perfect light. It is very bright; so bright that a rider behind me said, "it's too bright" :) . I am confident that I will be seen during that day and night by cars. The clip is very strong and easily clips to my saddle bag without concern of it coming loose.
Thank you for your feedback.
1 of 1 customers found this review helpful.
Great light...visible way down the road.
I have had other lights and seen other lights but they are not comparable. Even in broad daylight this light excels. It may cost a bit more but is well worth it.
Thank you for your feedback.